Neuchâtel, Switzerland
Travel and Tourist Information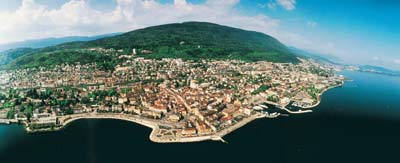 By Durant Imboden

Neuchâtel is the capital of Canton Neuchâtel, in the French-speaking area of Switzerland. It's also the biggest town on Lake Neuchâtel, and it's popular with tourists who come for medieval architecture, boat cruises, and hiking or bicycling in the surrounding countryside.
Neuchâtel is at least a thousand years old, with a recorded history dating back to 1011 AD (when, as Novum Castellum or "New Castle," it was a fortress owned by the Dukes of Burgundy). Over the centuries, Neuchâtel and its canton were ruled by French nobles and the King of Prussia until the 19th Century. The canton joined the Swiss Confederation in 1815, with Neuchâtel as its seat of government.
Today, Neuchâtel is an attractive and lively town of 32,000 residents, including several thousand students at the University of Neuchâtel, which dates back to 1838. It's well worth visiting, and we'd recommend staying for at least two nights--or longer, if you'd like to use Neuchâtel as a base for travel in the region. (Neuchâtel is a gateway to "Watch Valley," which has 27 stops along a 200-km or 130-mile circuit through the watchmaking towns of the Jura and Neuchâtel Mountains. Another interesting town on the route, La Chaux-de-Fonds, is profiled in a separate article.)
Next page: Sights and excursions
---
---
---
---
Photo copyright © Tourisme Neuchâtel.