The Jungfrau Marathon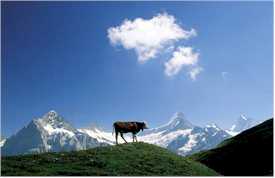 ABOVE: A curious cow waits to see several thousand International Jungfrau Marathon runners puff uphill from Interlaken to Kleine Scheidegg.
Running isn't an activity that most of us associate with the Bernese Oberland of Switzerland. Mountain climbing, hiking, skiing, and cowherding are more typical pursuits in the local valleys and Alps.
Still, runners (like cows) travel in herds, and the larger the herd, the greater the profits. That's a good enough reason for staging the Jungfrau Marathon, which gives 4,000 intrepid runners the chance to struggle uphill from Interlaken to Kleine Scheidegg in September.
Caution: If you're tempted to compete, be warned that this isn't a race for the typical weekend jogger. The 26-mile (40-km) course starts at 1854 ft. (565 m) and twists its way through the Lauterbrunnen Valley, up a mountainside to Wengen, and across Alpine meadows before climbing the final leg to Kleine Scheidegg at 6857 ft. (2090 m). Nearly half the course is over unpaved hiking trails or mountain paths, and the official literature for the race warns:
The Jungfrau Marathon is a demanding test of strength and stamina. The event is therefore open only to well-trained athletes in top physical condition. Each competitor must assume full responsibility for his/her personal state of health. Competitors recently suffering from infectious illnesses (such as angina or influenza) are reminded that they risk endangering their lives by taking part.
For those who make it to the top, there are hot showers, medals, diplomas, and prizes up of to 10,000 Swiss francs. But this race isn't about money--it's about prestige and survival.
A nice view on the way down
The rather steep starting fee entitles competitors to a return trip to civilization via the Jungfrau Railways. Runners who aren't totally exhausted will be able to enjoy spectacular views of the Jungfrau Massif as they head back to Interlaken.
Plan ahead if you want to run.
More than 6,000 applications are sent in each year, but the race is limited to 4,000 starters. This means you need to apply far in advance if you hope to participate. See the official Jungfrau Marathon Web site for more information.
---
---
Photo copyright © Switzerland Tourism.