Swiss Transportation Museum
Verkehrshaus - Lucerne, Switzerland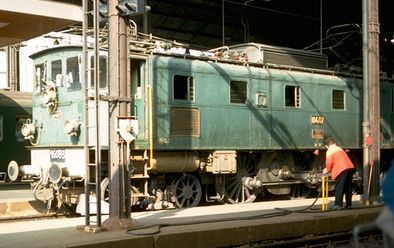 ABOVE: A vintage electric "Lok."
Transportation has always been an important industry in Switzerland, which sits at the Alpine crossroads of Europe. So it shouldn't be surprising that the Swiss Museum of Transport in Lucerne is among the best of its kind anywhere--as well as being one of the most popular museums in this country of 6 million train, bus, and boat passengers.
The transportation museum, or Verkerhshaus, is on Lucerne's lakefront beyond the Kursaal (casino) and the grand hotels that dot the tree-lined promenade. The complex has grown over the years, and its major exhibition halls include:
Railways. Examples of steam and electric locomotives and railroad cars from different parts of Switzerland over the last 150 years are displayed on more than a kilometer of track. A model railroad shows trains working the Gotthard Pass.

Road transportation. See automobiles, engines, horse-drawn coaches, bicycles, and the development of automotive transport in Switzerland.

Postal services. Explore a mail-sorting center, an old postal coach, and a large stamp collection.

Telecommunications. The museum shows the evolution of telephones, radio, and television over the last 100+ years.

Air and space travel. See antique and modern airplanes (the oldest being a Dufaux biplane from 1910), plus helicopters, Mercury and Gemini space capsules, and an Apollo space suit that was worn on the moon.

Shipping. The museum's water-related exhibits include restored lake steamers dating back to 1813, model boats, harbor dioramas, and more.

Cable railways. Exhibits show cabins from aerial cableways and working models of mountain transportation.

Tourism. Learn about the development of the Swiss tourist industry.

Swissorama. Experience a 20-minute movie tour of Switzerland on a 360° screen.

Planetarium. Lie back and see the stars while your headphones deliver the lecture in English, German, French, or Italian.

Film Theater. Watch big-budget educational and nature movies (many in 3D) on a huge screen.

Hans Erni-Museum. The Verherhshaus has a building devoted to the works of Lucerne artist Hans Erni. (It doesn't have much to do with transportation, but maybe Herr Erni liked to ride the bus.)
Related Web site
Verhkehrshaus der Schweiz - Swiss Museum of Transport
English-language text describes everything you need to know about the museum--including opening hours, admission fees, and how to reach the Verkehrshaus by train, bus, boat, or on foot along the lakeside promenade.
---
---