Verbier in Winter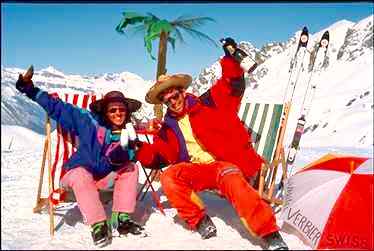 ABOVE: The palm may be artificial, but you'll still need your sunscreen when you enjoy Verbier's high-altitude slopes.
Swiss winter resorts come in many different flavors. Some, like Mürren, have a cozy alpine feel; others--most notably St. Moritz--have achieved renown by catering to the glitz-and-glitter set. Verbier, a French-speaking resort in Canton Valais, represents a new breed of Swiss ski resort: the modern, well-organized sports complex that emphasizes serious skiing and nightlife rather than a traditional atmosphere.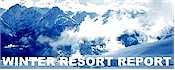 The town has what is claimed to be the largest aerial cableway in Europe, with two gondolas that hold 150 skiers each. A massive "Televerbier" network of 100 lifts provides access to some 400 km (250 miles) of official ski trails. Off-piste opportunities are available for expert skiers.
Verbier's winter season begins early (officially, on November 8) and continues into April. Summer skiing is another option, thanks to a glacier on Mt. Fort that you can reach by cablecar (see photo below).
Bring skiing skills--and money
Verbier is geared toward advanced skiers. Trails for beginning and cautious intermediate skiers are in short supply, and cross-country trails are an afterthought at best. The reviewers at SkiIn (now merged into ifyouski.com) describe Verbier as a "paradise for powder skiers" but add that its sking is "best for the expert who is happy off piste; not for the faint-hearted."
Verbier isn't cheap, either--and not just because the Swiss franc is one of Europe's strongest currencies. So, if you're the kind of skier who travels with a backpack and a youth-hostel card, you'll probably be happier somewhere else. (But if your Visa or Mastercard is of the Gold or Platinum variety, you'll find plenty of hotels, chalets, restaurants, and nightclubs to test your card's credit limit.)
Tip: Verbier can be crowded on weekends, when residents of nearby Geneva and Lausanne head for the slopes, so try to do most of your skiing during the week.
How to reach Verbier
From Geneva, take the main railway line to Martigny and transfer to a local train for Le Châble, where a postal bus makes the 25-minute trip to Verbier. Trains and connecting buses run at various times throughout the day; here are sample itineraries from schedules 100 and 133 of the Swiss Official Timetable:
Related Web sites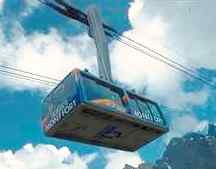 ABOVE: Mt. Fort gondola lift.
Verbier
The resort's official tourist office has information in English, French, and German.
Winter Resort Reports Index europeforvisitors.com
Read other articles about ski and snowboarding resorts at Europe for Visitors.