Venice > Books > The Cats of Venice
Book Review:
The Cats of Venice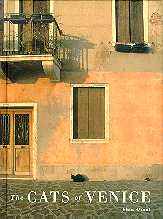 Shin Otani
Chronicle Books, 1998
Hardcover, 96 pages
US $12.95
ISBN 0-8118-1937-X
Venice is a city that has long been famous for its cats. As Shin Otani says in The Cats of Venice:
"The Venetians are tolerant of cats. In fact, the cats of Venice are cherished, fed, and watched over by people who appreciate the serenity and self-sufficiency of cats.... In the watery world of gondolas and bridges, cats and people live together comfortably."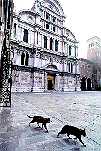 Otani's book celebrates the Venetian feline lifestyle with photos that make a human visitor envious. Cats sleep two or three to a park bench, bask on bridges, peer from the windowsills of palazzi, play with dogs and pigeons, perch on piers, and enjoy the freedom of neighborhood cat kennels that resemble oversize birdhouses. It appears that most of these cats haven't a care in the world, except to avoid having their tails stepped on by tourists.
With 80 color photographs and a list price of only US $12.95, The Cats of Venice is a delightfully affordable souvenir book for anyone who loves Venice--and cats.
Related articles
Cats of Venice
Forget the Lion of St. Mark--Venice's real-life mascots are feline, but they're a good deal smaller and more abundant than their African cousins.
Venice's oldest cat?
A tribute to Neno, a Venetian cat who enjoyed boating and swimming during his long life in Cannaregio's Madonna dell'Orto neighborhood.
Photos: © 1996 Treville Co., Ltd., Tokyo. All rights reserved.