If you heed just one piece of advice from us, make it this:
Don't pick a hotel that's inconvenient or expensive to reach--and don't be afraid to change your booking if you've had second thoughts about a hotel's location.
If you're in Venice for 1 to 3 days:
If you're loaded with luggage:
We recommend staying at a hotel near the Piazzale Roma (airport buses and land taxis), Santa Lucia railroad station, or an Alilaguna airport boat stop.

Venice's narrow streets can be crowded during the tourist season or on weekends, and hauling large bags up and down the steps on bridges is a nuisance--even when you're young and fit. You may also want to consider leaving large or heavy bags at a luggage storage office.
If you're arriving or departing on a cruise ship:
Stay at a hotel near the Piazzale Roma (Marittima check-in terminals), the San Basilio pier, or--less conveniently--the Piazza San Marco, where you can catch an Alilaguna Blue Line boat to the Marittima terminals. (Murano, the glassmaking island, is another possibility for Marittima passengers.)

We discuss these and other options in Venice Cruise Terminal Hotels and 17 Hotels Closest to Cruise Ships.
If you have a flight before 10 a.m.:
If you have mobility problems:
Stay at a hotel that's easy to reach on foot, or you may find yourself struggling up and down the steps of pedestrian bridges.
 
See Accessible Venice Hotels, or browse our "How Many Bridges to Cross?" listings for hotels that are within 0, 1, or 2 bridges of public transportation.
---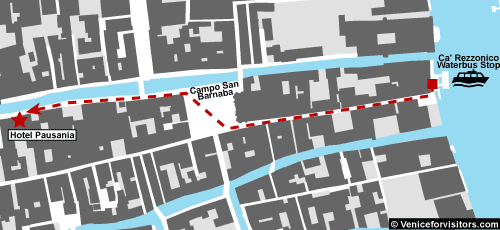 ABOVE: Our Venice Hotel Directions can help you find hotels that are near major transportation points such as Alilaguna airport-boat stops, the Santa Lucia Railroad Station, and the Piazzala Roma (used by taxis and airport buses).
---
If you're sleeping on the mainland:
Choose your hotel carefully so you'll be in central Mestre or Marghera--within 10 to 12 minutes from Venice--instead of being trapped in an isolated, depressing motor inn on the road to the airport. (See Mestre-Marghera Hotels for specific recommendations.)
Don't let someone else make a booking decision for you!
If a travel agent, airline, or other resource has already booked you into an inconveniently-located hotel, cancel the reservation and make your own hotel decision--unless you're stuck with a prepaid, non-cancellable booking.

We've actually had e-mails from readers who were booked into "Venice hotels" that turned out to be 30 to 60 minutes away in small towns on the Italian mainland.
Here are two final--and important--pieces of advice:
Reserve early.
Hotels in Venice tend to be small (many have fewer than 20 rooms), so it's best to book ahead while rooms are still available. With a cancellable reservation, you can always change your mind later on.
Use a secure booking system.
If you book through a secure reservations platform like Booking.com (our hotel partner), you should be safe. When booking directly with a hotel, make sure that your credit-card details are protected before you enter any data.
For more detailed tips on where to stay, see the menu below: