Venice > Festivals & events > La Biennale di Venezia
La Biennale di Venezia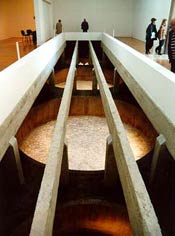 ABOVE: The Seventy-Second Concealment, by Dimitri Alithinos.
Every two years, Venice hosts its famous Biennale--a biennial modern-art exposition that features painters, sculptors, and performance artists from around the world.
Most sanctioned events take place in the Giardini Pubblici, which has some 40 permanent national pavilions; at the Corderie dell'Arsenale, a short distance away; and at the Museum Correr on the Piazza San Marco.
Some works are displayed in other locations around the city. Unofficial shows and performances take place all over town during the Biennale, especially between mid-June and mid-July. Check with the tourist office when you're in Venice for current schedules.
How to reach the Biennale
The simplest way to reach the Biennale's main site at the Giardini Pubblici is on vaporetto line 1, which runs every 10 minutes or so throughout the day.
Related Web site and article:
La Biennale di Venezia
The Biennale's official Web site has information about the main exhibition and other Biennale-sponsored events such as the yearly Venice International Film Festival.
Looking back on the Biennale
Our illustrated report of an earlier festival gives an idea of what to expect when you visit the current or coming Biennale.
A Biennale book for mystery fans:
Edward Sklepowich's mystery novel, Liquid Desires, is set in Venice during the Biennale. It isn't his best book, but it's pleasant enough, and it's a nice warmup to Venice during your European train journey or transatlantic plane trip. The novel is out of print, so look for it at your public library or in a secondhand bookstore.
HARDCOVER:
Liquid Desires
Edward Sklepowich
William Morrow & Co., 1993
ISBN 0-688-11165-3
PAPERBACK:
Liquid Desires
Edward Sklepowich
Avon Books, 1993
ISBN 0-380-72150-3