Venice > COVID-19
"Is Venice open for travel?"
With the COVID-19 pandemic still raging, we think it's unwise to schedule a trip to Venice this year. However, it's never too early to plan for 2022.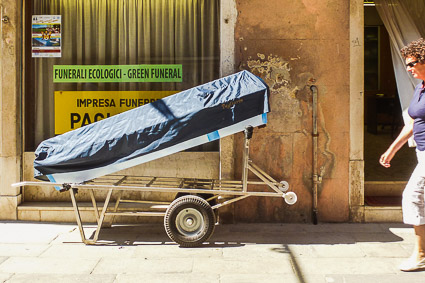 ABOVE: No, the body parked outside this funeral parlor isn't a coronavirus victim--but it could be, given the high death rate for older people and the fact that pensioners make up nearly 20 percent of Venice's population.
---
By Durant Imboden (Updated August 22, 2021)
Venice isn't at the epicenter of Italy's coronavirus scare, but there have been plenty of COVID-19 cases in the city, and many deaths have occurred. Thanks in part to the highly infectious "Delta variant," a new wave of coronavirus infections has been spreading across Europe, so travel to Venice is likely to be unwise for a good while yet. Still, that doesn't mean you can't start thinking about a future trip.
Things to keep in mind:
Although Italy is reopening to tourists, visitors from countries with high infection rates may be blocked from entering the country (and, for that matter, the EU) for a while.  The European Union's Re-open EU Web site has up-to-date, country-by-country information in 24 languages. Also see the Italian government's COVID-19 Update: information for tourists, which has information about required proof of vaccination.

Please note that requirements could change by the time you take your trip. Caveats: At this writing, the only acceptable vaccines are from Moderna, Pfizer, Johnson & Johnson, and AstraZeneca. Also, the rules call for a Covid-19 Green Pass, but some countries--including the United States, don't have such "vaccine passports." (In the case of the U.S., vaccination cards are acceptable.) If you're from outside the EU, we suggest following your airline's advice regarding documentation.

It can be hard to avoid crowds in Venice, especially if you use public transportation or spend most of your time at busy tourist attractions such as the Piazza San Marco and the Rialto Bridge. We'd suggest using masks even if they aren't required at the time of your visit.

The good news: Because of the pandemic and its economic fallout, tourist arrivals in Venice are lower than they have been in decades. We think early 2022 could be a reasonable time to enjoy the city without having to bump shoulders with mass-market tourists (depending on whether you've been fully vaccinated and the crisis has receded in Italy). What's more, Venetians--who have been hit hard financially--will be grateful for your business.
Our advice for planning a visit to Venice:
Be aware that the Italian government has declared a COVID "State of Emergency" for the remainder of 2021, and you'll need the aforementioned "Green Pass" to eat in indoor restaurants, visit museums, etc. until further notice.

Watch the news media and Re-open EU for up-to-date information on infection rates, lockdowns, etc. The pandemic isn't likely to recede fully until vaccinations are widespread, so (as much as it hurts us to say this) we can't recommend planning a vacation trip to Venice until late fall, 2021 at the earliest.

Check airline sites for news of route reopenings. Ditto for cruise lines, which are starting to announce limited cruise itineraries for what's left of the 2021 season. (Note, too, that most cruise ships have just been banned from Venice by a decree of the Italian government.)

If you're in a high-risk group (e.g., over 60, especially with underlying health problems), use common sense in deciding whether, when, and where to travel. The coronavirus and its new variants won't disappear overnight, and Italy's healthcare system is likely to remain under stress for some time.

When you book hotels, B&Bs, or apartments, make sure that your reservation can be canceled without penalty. (This year is a good time to avoid low prepaid, non-cancellable rates.) For maximum savings, keep an eye on rate changes and be prepared to cancel and rebook if you can get a better deal closer to your visit.

Tip: Hotel rooms are usually easier to cancel without penalty than apartments are.

Be aware of cancellation policies or change fees when you book your airline, train, or cruise tickets. Airline fares and other transportation tickets vary in their cancellation and change policies.

If you can't afford a fully-refundable ticket, budget some money for ticket changes just in case. (Good news: Many airlines offer waivers on change fees during periods of severe weather, epidemics, etc.)

Don't expect travel insurance to protect you if you need to cancel your trip because of coronavirus fears. Most insurers are treating the current outbreak as a "known event" and are turning down coronavirus-related claims unless travelers have bought high-priced "cancel for any reason" plans.

Avoid prepaid sightseeing tours unless they're fully cancellable. Instead, book excursions when you come or immediately before. (Gondola rides don't need to be booked ahead--just hire a gondolier on the spot.)
Bottom line:
As of this writing, we think the first quarter of 2022 could be a reasonable time to visit Venice if you want to enjoy the city with less crowding than usual. Our prediction assumes that you're fully vaccinated against COVID-19, new variants of the virus haven't caused a fresh spike in cases, and you aren't in a high-risk group. (Caveat: Those assumptions may be optimistic. Also, the situation could change at any time, so build as much flexibility as possible into your travel plans.)