Venice > Books > Venice: Places and History
Venice: Places and History
Book Review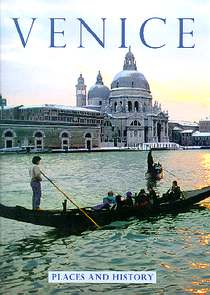 Venice: Places and History
Text by Danilo Reato
Translated by Ann Hylands Ghiringrelli
Stewart, Tabori & Chang, 1997
Hardcover, 136 pages
(9-3/4" x 12", 245 x 304 mm)
ISBN 1-55670-532-8
by Durant Imboden
If you have a craving for coffee-table books about Venice but are on a limited budget, Venice: Places and History is like having capuccino at the Caffè Florian for the price of decaf at your local doughnut shop. With a publisher's list price of US $24.95, this large-format book doesn't cost any more than your average summer beach novel--and you'll still be enjoying it long after your tan has faded and that Malibu roman à clef is gathering dust on your bookshelf.
Venice: Places and History starts with an introduction to the city, then dishes up 1,500 years of events in a chapter that is both well-written and beautifully illustrated with paintings and antique photographs. The photos alone are fascinating, and they're a credit to the editorial supervision of Valeria Manferto De Fabianis and the art direction of Patrizia Balocco.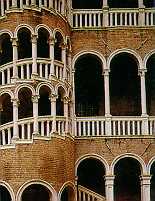 "Monumental Venice: Historic Sites and Museums" has some of the most stunning photographs I've ever seen of St. Mark's Basilica, the Doge's Palace, and less touristed but no less worthy monuments like the Biblioteca Nazionale Marciana and the Palazzo Grassi.
"Exploring Venice" is my own favorite chapter. The author begins with a discussion of the Venetian Lagoon and its problems, then takes the reader on a vaporetto tour of the Grand Canal. The chapter is punctuated by dozens of color photos that range from a panoramic gatefold of the Salute church at dusk to intimate snapshots of Venetian street life.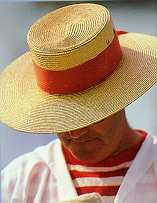 "Carnival and Traditional Venetian Activities" has the obligatory section on Carnevale, together with colorful boating scenes from the Regata Storica and a nice discussion of the gondola with accompanying photographs.
Finally, "Islands of the Lagoon" takes the reader on a brief excursion to Giudecca, the Lido, San Lazzaro degli Armeni, Murano, Burano, San Francesco del Deserto, and the once-thriving cathedral island of Torcello. The aerial photos are spectacular--and all the more amazing for being in such a reasonably priced book.
Summary:
Venice: Places and History is a beautiful volume at a bargain-basement price, and it's the perfect souvenir to remind you of your own visit to Venice.
Where to buy the book:
Venice: Places and History is no longer in print, but it's available as an inexpensive used book from Amazon and other secondhand book dealers.