Venice General-Interest Sites
From: Venice Links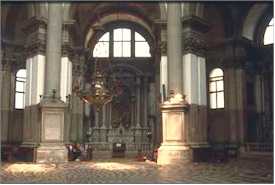 ABOVE: Interior of Santa Maria della Salute Church.
Venice Tourist Board
The APT Venezia is useful source of information about special events, sightseeing itineraries, and other topics that we don't cover in depth at Venice for Visitors. For practical information, you're better off using our site or visiting one of the tourist office's locations in Venice.
Little Guide to Venice
Christine Jenner's travel-planning site has the theme "Discover the most beautiful city in the world." It's an attractive site with readable writing, good photos, and enough information to help you plan a short trip.
In Venice Today
Much of this site consists consists of links and outdated event listings, but the Curiosity section is worth your time.
VeniceBlog
Norman Hajjar's well-written blog is a good source of news and other timely reports from Venice.
MeetingVenice
This bilingual site can be annoying to use (you may need to click "EN" at the top of each inside page to see English text), but it does have some useful information.
Venezia Convention Bureau
The Centro Congressi di Venezia caters to groups of every kind, ranging from the Venice Film Festival to conferences of scientists and insurance brokers. (English text may or may not be available at any given time, depending on the convention bureau's whims.)
---
---