Introducing Venice
From: Venice Links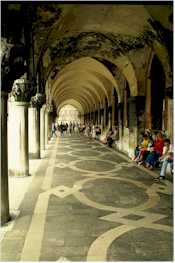 ABOVE: Gallery of the Doge's Palace (Palazzo Ducale), Venice.
History of Venice
A slide show of Venice's history and culture through the centuries, with artwork and maps.
Orienteering: Venice Style
Joseph F. Lomax describes the origins of Venice's unique urban design, and he gives tongue-in-cheek tips on how to navigate the city.
Venice: History and Curiosity
From Venetia comes a collection of highly readable articles on the Piazza San Marco, Doge's Palace, and other landmarks.
---
---