Venice Photos
From: Venice Links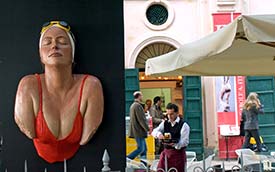 ABOVE: A sculpture of a swimmer frames the caf© outside of Venice's Biennale modern-art exposition.
Fisheye Venice veniceforvisitors.com
These recent photos offer a fresh perspective on a stunning city, and the captions include descriptions with links to in-depth articles.
Vintage Venice: 1999 veniceforvisitors.com
Browse through scanned and captioned Kodachrome slides from yesteryear.
Cities for People: Venice
This series of pages is far more than a collection of outstanding Venice photos--it's also an exploration of Venice as a prototype for tomorrow's "Car-Free Cities."
Old Venice
Enjoy antique photos and etchings of Venice from Antoniana.it, a travel service and operator of Brenta Canal excursions. The site also has a section devoted to Old Padua.
Virtualtourist.com: Venice
Tour the city by slide show. (Scroll down to the bottom of each page for "prev" and "next" buttons.)
---
---