Bagpipes of Scotland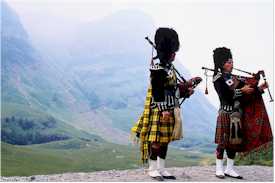 ABOVE: Pipers in Glencoe make music with the piob-mhor, or Great Highland Bagpipe.
By Durant Imboden
A trip to Nashville or Branson would be incomplete without country music. In the same way, a tour of Scotland demands at least one encounter with the bagpipes--or more specifically, with the piob-mhor, or Great Highland Bagpipe, whose stirring drone led the British government to classify the pipes as an "instrument of war" after Bonnie Prince Charlie led Scotland's final (and futile) uprising against English tyranny in 1745. As Sir Iain Montcreiffe wrote in Alistair Maclean Introduces Scotland, "The Government banned the tartan, the pipes, and the kilt: thus enshrining all three in our hearts for ever."
Scotland offers many opportunities to hear bagpipe concerts, competitions, and festival performances. Check with local tourist offices as you travel around Scotland, and there's a good chance that a piping event will coincide with your visit.
The Web sites on the next page tell everything you need to know about Scottish bagpipes, including where you can buy a piob-mhor and learn to play it. Several of the pages include links to sound files of bagpipe performances.
"Best of the Web"
- Forbes and The Washington Post
---
Advertisement:
---
Our most popular topics:
---
Partner ad:
---
Need a car for a longer trip?
Short-term Car Leasing
If you live outside the EU, a tax-free Renault or Peugeot tourist car lease can be cheaper than renting for visits of 21+ days. Minimum driver age is 18, there' s no upper age limit, and rates include insurance.