Travemünde Photos
From: Travemünde, Germany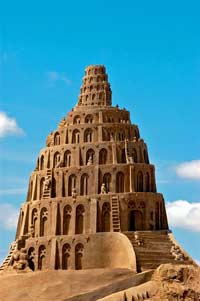 Summer events
The annual Sand World festival takes place from early July through early September. Each year's festival has a different theme. (These pictures, which were taken in 2003, show the Tower of Babel and a lineup of Egptian pharaohs.)
Travemünde's other big summer event is Travemünder Woche in late July, when nearly 1,000 sailboats and 3,000 sailors join locals and tourists for a week of regattas, live music, and parties.
In winter, the Neujahrsmarkt Travemünde is popular, especially with Germans and with Scandinavians who arrive ferry for the week-long market that runs from the day after Christmas through New Year's Day.
---
---
---
---
---
"Best of the Web"
- Forbes and The Washington Post
---
Advertisement:
---

Need a hotel in Germany?
Booking.com offers guaranteed lowest available rates at more than 33,000 hotels, guesthouses, and hostels throughout Germany.

Search for hotels, or pick a city