Money-Saving European Travel Tips
Don't let a strong euro spoil your vacation plans!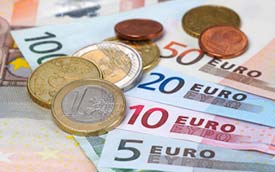 ABOVE: Even if you live in the euro zone, our money-saving tips are worth heeding.
---
---
If you're an American traveler, the badly-battered U.S. dollar may seem like a good reason to avoid Europe. And if you're British, the recent drop in the pound's value against the euro may feel like an economic kick in the trousers. But don't let currency fears ruin your holiday plans: By keeping things in perspective and adopting common-sense money-saving strategies, you can travel independently in the euro zone (even in the top tourist cities) without going broke.
First, some perspective:
Five years ago, the euro was worth approximately US $1.45.

In March, 2013, when this article was last updated, the euro's exchange value was 15 cents lower at US $1.30, and the British pound's value against the dollar had dropped from $2.00 to $1.50. (For up-to-date exchange rates, use our currency converter.)
Some economic experts are predicting that the U.S. dollar will continue to creep up at the expense of the euro and the British pound, albeit with fluctuations along the way. But even at current rates, the dollar is stronger than it was a few years ago. Middle-class Americans really can enjoy a European trip with a bit of planning and common sense. Ask a Canadian: People from Canada have visited Europe (and the United States) for years, despite a Canadian dollar that was far weaker than the U.S. dollar for most of the last three decades.
For British travelers, the situation may require more mental adjustment, because the pound began sinking against the euro only recently. (It was worth €1.15 in March, 2013, compared to €1.29 five years earlier.) On the brighter side, Continental Europe is far closer for UK residents than it is for Americans, Canadians, and other tourists from overseas. Look at it this way: If beleaguered American travelers are still visiting Europe after several years of a weak dollar--and despite transatlantic flights that cost far more than a Ryanair or EasyJet flight or a Eurostar ticket--then you shouldn't let a more expensive euro keep you from sampling the Continent's delights.
Second, the money-saving strategies:
Please continue to our first money-stretching tip on page 2.
---
---
---
---
Photo: Imagestock.
"Best of the Web"
- Forbes and The Washington Post

---
---

Need a car in Europe?
Auto Europe guarantees the lowest rental rates for standard cars, sports cars, SUVs, luxury cars, chauffered sedans, and RVs. Its Web site also has driving information for 38 countries.
If you live outside the EU, a tax-free Renault or Peugeot tourist lease can be cheaper than renting. Minimum driver age is 18, there' s no upper age limit, and rates include insurance. See: Short-term car leasing.
---