Until 1854, the Ponte di Rialto was the only bridge across the Grand Canal in Venice. Even now, there are only four bridges along the canal's 2.5-mile (3.5 km) length. If you need to cross the canal and you aren't near a bridge, you have two choices:
Take the No. 1 vaporetto, which zig-zags from one bank to the other as it follows the Grand Canal, or better yet:

Head for the nearest traghetto pier and get rowed to the other side. As a tourist, you'll be expected to pay €2,-- (nearly three times the resident rate of 70 cents), but there is an unofficial workaround that sometimes works: See our money-saving tip on page 2 of this article.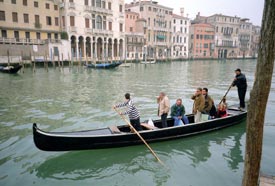 ABOVE: A traghetto ferries passengers across the Grand Canal. INSET BELOW: A Venetian mother and her daughter (wearing inline skates) wait to board.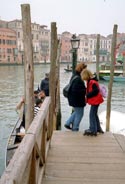 Traghetto (plural: traghetti) means "ferry" in Italian. On Venice's Grand Canal, traghetti are the passenger boats that cross the canal at seven points between the railroad station and St. Mark's Basin. The boats are large gondolas without bow decoration, brocaded chairs, and other luxury trimmings. They are rowed by two oarsmen: one who stands behind the passengers like a traditional gondolier, the other closer to the bow.
Most traghetti have been operated by the same families for generations. As recently as the 1950s, there were some 30 of these gondola ferry routes. Today, there are seven:
Fondamente S. Lucia (in front of the railroad station) - Fondamenta San Simeón Piccolo

San Marcuola - Fóndaco dei Turchi (by the Natural History Museum)

Santa Sofia (near Ca' D'Oro) - Pescaria (fish market)

Riva del Carbòn - Fondamente del Vin

Sant' Angelo - San Tomà

San Samuele - Ca' Rezzónico

Campo del Traghetto - Calle Lanza (near the Salute Church)
The routes are clearly marked on any good street map of Venice (look for straight lines across the Grand Canal), and you'll often see yellow signs pointing toward the traghetto landings when you're walking through neighborhoods along the Grand Canal.