Gondolas and Gondola Rides
Gallivanting by gondola in Venice, Italy
There are two important rules to remember about gondola rides in Venice:
If the price bothers you, don't do it.

If the price doesn't bother you, make sure you understood the gondolier correctly.
Fact is, a gondola cruise in Venice is like traveling by hansom cab in New York's Central Park: It can be a delightful experience, but only if you're able to forget the price and focus on the ride.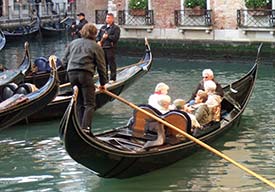 ABOVE: A gondola carries up to six passengers. INSET BELOW: A gondolier in a traditional straw hat, happy gondola passengers, and a squero where gondolas are built and repaired.
What a gondola ride costs
The city of Venice sets official rates for gondola rides, which started at €80 for 40 minutes the last time we checked. Additional 20-minute increments are €40. After 7 p.m., the base rate climbs to €100, with €50 for an additional 2 minutes. Up to six people can share a gondola.

This doesn't mean you'll actually pay 80 euros, or that you'll get a 40-minute ride. Depending on demand, gondoliers may regard the official rates as a polite fiction. Special services, such as singing, can boost the fare even more. This means you should negotiate both the rate and the length of the ride before you get into the boat. Otherwise, your gondola ride may be memorable for reasons that have nothing to do with sightseeing.
If you dislike negotiating, you can leave that chore to your hotel concierge, though he (or she) may add a hefty surcharge. A few years ago, a reader told us that he'd paid the Hotel Bauer's concierge €120 for a gondola ride just before Carnevale, but he added that he didn't mind the rate and got great service. Another reader (presumably well-heeled) spent a mind-boggling €150 for a 50-minute ride and thought the expenditure was "well worth it."

To be fair to Venice's gondoliers, they invest a great deal in their boats: about €20,000 for a traditional hand-built wooden gondola with a useful life of about 20 years. They need to earn the bulk of their annual income in a few short months.
Finally, a gondolier's living costs may be higher than yours, since Venice is an expensive city in one of Italy's wealthiest provinces. Look it at this way: The man who's rowing you up the Grand Canal probably could earn more money for less work at an industrial plant on the mainland.
Next page: Where to hire a gondola
---
---
---
The premier travel-planning site
for Venice, Italy since 1997

---

Too many bridges, too little time?
Choose from handpicked Venice hotels (in all price ranges) within 0, 1, or 2 bridges of airport buses, taxis, trains, cruise piers, and airport-boat stops. We show maps, directions, booking links, and hotel Web sites.
» Click for easy-to-reach hotels
---
---
Venice for Cruisers:

---

Need a car in Europe?
Auto Europe guarantees the lowest rental rates for standard cars, sports cars, SUVs, luxury cars, chauffered sedans, and RVs. Its Web site also has driving information for 38 countries.
If you live outside the EU, a tax-free Renault or Peugeot tourist lease can be cheaper than renting. Minimum driver age is 18, there' s no upper age limit, and rates include insurance. See: Short-term car leasing.
---
Our blogs:

---