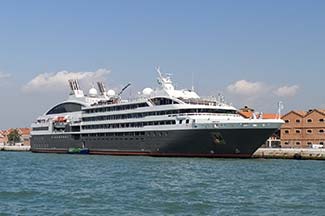 ABOVE: Compagnie du Ponant's L'Austral at the San Basilio cruise terminal in Venice. (See our illustrated cruise review.)
by Durant Imboden

Are you having trouble choosing between a land vacation and a cruise? Not to worry: In 2014, 12 cruise lines and a ferry company are offering ship voyages that begin and end in Venice. Such roundtrip cruises offer a great way to combine a Venice holiday with a trip by ship--allowing you to enjoy back-to-back vacations with only one air or train fare.
Below are links to cruise and ferry lines that welcome English-speaking passengers and have regularly-scheduled roundtrip voyages from Venice in 2014:
Ocean cruises

Compagnie du Ponant
France's luxury cruise line caters to international travelers (including Anglophones) and has been on a shipbuilding spree in the past few years. See our illustrated review of a roundtrip cruise from Venice on Compagnie du Ponant's 264-passenger "megayacht," L'Austral.
In 2014, L'Austral's sister ship, Le Soléal, is offering seven-night Adriatic itineraries from Venice with visits to ports in Croatia and Montenegro. Departures are from mid-May through late September, and itineraries often vary slightly from week to week.
MSC Cruises
Mediterranean Shipping Company, a.k.a. MSC, is one of the world's largest cargo operators. It entered the cruise business just over 20 years ago, launched the MSC Crociere brand in the mid-1990s, and now operates more than a dozen large ships that cater to a multilingual, multinational audience.
MSC offers weekly seven-night roundtrip voyages in the Eastern Mediterranean from April through late October, with additional seven- to 11-night roundtrip cruises during the season. In 2014, three ships are featured: MSC Fantasia, MSC Armonia, and MSC Orchestra. (See our MSC cruise review at Europe for Cruisers.)

Costa Cruises
Europe's largest and oldest cruise line has been in business for more than 60 years. From Venice, Costa operates seven-night cruises to Italy, Greece, Turkey, and Croatia, with a handful of longer itineraries. Two ships are on the Venice-to-Venice circuit in 2014: Costa Magica and Costa Fascinosa.
We haven't cruised with Costa from Venice, but see our illustrated Costa Magica review about a roundtrip cruise from Rome.

Seabourn
This U.S.-based luxury cruise line has scheduled more than a dozen roundtrip sailings from Venice in 2014. All sailings are on the Seabourn Spirit, a yacht-like ship with 104 suites, and each 10- or 11-night cruise includes an overnight stay in Venice. Seabourn Spirit will also offer several 21-day roundtrip itineraries from Venice.
Note: In 2015, Seabourn Spirit will become the Wind Spirit of Windstar Cruises, so don't dawdle if you want to enjoy a roundtrip small-ship cruise from Venice on Seabourn.

Royal Caribbean International
RCCI is an American value-priced cruise line that has been reaching out to European travelers in recent years. In 2014, two of the company's ships--Spendour of the Seas and Legend of the Seas--are running six- to 11-night roundtrip cruises from Venice.

Celebrity Cruises
Royal Caribbean's premium-priced subsidiary has a handful of seven- to 13-night roundtrip itineraries from Venice on its calendar in 2014. All cruises are on Celebrity Silhouette, a 2,886-passenger ship that entered service in 2011.

Norwegian Cruise Line
NCL's Norwegian Jade is cruising from Venice and back more than a dozen times in 2014, with ports of call in the Adriatic and the Eastern Mediterranean. Itineraries (including combined cruises) range from seven to 14 nights. The 93,558-ton Norwegian Jade has a capacity of 2,402 passengers.

Princess Cruises
In 2014, the new (and huge) Regal Princess will debut a 17-day roundtrip cruise from Venice in early June, while the more intimate 672-passenger Ocean Princess has a 21-day "Mediterranean Explorer" itinerary in October.
Lagoon and river cruises

European Waterways Ltd.
From the end of March until late October, European Waterways runs six-night cruises aboard La Bella Vita, a 20-passenger hotel barge. The itinerary begins in Venice, includes stops at small ports in the Venetian Lagoon, and heads up the Po River toward Mantua, with return transportation to Venice by bus. (In alternating weeks, the cruise runs in the opposite direction.) See our illustrated review and day-by-day cruise photo diary at Europeforcruisers.com.

Uniworld
From April to November, 2014, Uniworld Boutique River Cruises is offering seven-night cruises from Venice to the Po (with side trips to Padua, Ravenna, and Verona) on River Countess. You can book the cruise only or a 13-day tour that includes Florence and Rome. For details, see the Italy pages at Uniworld.com.

CroisiEurope
River cruising is the specialty of this 35-year-old French line, which operates trips of four to six nights from Venice during most of the year. Part of the time is spent cruising, and the rest is used for excursions by water or land to the Lagoon Islands, Chioggia, Ferrara, and/or Verona.
We haven't cruised with CroisiEurope, but we moored alongside its Michelangelo and crossed through that ship's lobby to a Peter Deilmann River Cruises ship, the Casanova, a number of years ago. We've often seen Michelangelo moored near the public gardens in Venice, and we think it would be a great way to enjoy the Venetian Lagoon.

Nicko Tours
This German company operates six- and seven-night cruises from Venice to the River Po on MS Bellissima, with shore excursions to cities such as Padua, Mantua, Ferrara, or Verona, depending on the itinerary. The onboard language of Nicko Tours is German, but announcements, menus, programs, etc. are available in both German and English. (In 2014, the company is combining its cruise itinerary with a Tuscany land package for German customers; its plans for English-speaking cruisers were unclear when we last updated this article in mid-September, 2013.)

Ferries
If you're more adventurous, or if you insist on having your car as a companion, you can combine back-to-back ferry trips into a minicruise:

Anek Lines
This Piraeus-based shipping company operates cargo-and-passenger ferries that link Venice with Igoumenitsa and Patras. (Anek sometimes stops at Corfu as well.) Anek also runs ferries from Patras and Igoumenitsa to Ancona, Italy, which is down the Adriatic Coast from Venice.
Check the Anek Lines Web site for a journey planner and current timetables in PDF format.
Updated September, 2013