Finding a laundromat in Venice isn't easy, but a handful of Venetian self-service laundries do exist. In this article, we'll tell you about three modern and easy-to-use launderettes--one near the Piazza San Marco, another near the Venice railroad station, and a third below the Frari Church.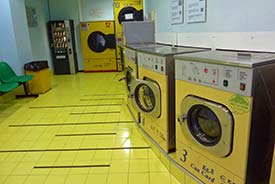 ABOVE: Interior of the Effe Erre Laundry between the San Zaccaria vaporetto stop and Campo Santa Maria Formosa. INSET BELOW: Our dog Maggie contemplates washing machines in Santa Croce.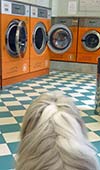 For your convenience, we've created a separate page for each laundromat, with photos and
Walking directions to the hotel
so you won't need to wander aimlessly with a suitcase or backpack full of dirty clothes.

To find the laundromat that's closest to your lodgings in Venice, use the navigation links below.
Tip for using our directions: Venice street signs are often in Veneziano dialect, while maps generally use Italian spellings. Usually the differences are minor, but they can be confusing if you aren't aware of the discrepancies.