Only a few years ago, Venice was a city of neighborhood alimentari or grocery stores, cheese shops, meat markets, and produce vendors. Supermarkets were few and far between. Times have changed, and today you'll supermarkets in most of Venice's sestieri or districts. That's bad news for traditionalists, but it's good news if you're a foreign tourist who's intimidated by unfamiliar shopping customs and language barriers. What's more, shopping at a supermarket can be a time-saver when you're stocking the refrigerator of your vacation apartment or browsing for snacks to keep in your hotel room.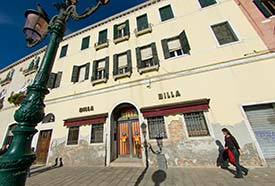 ABOVE: The Billa supermarket on the Zattere in Dorsoduro. INSET BELOW: Delivering supermarket goods by barge.
Of the supermarket chains in Venice, our favorite is Billa, which has at least three stores in the city center: One on the Zattere, facing the Giudecca Canal in Dorsoduro, another on the Strada Nova in Cannaregio, and a third near the Frari church. Billa also has a supermarket on the Lido's main business street, near the Lido vaporetto and bus station.
Billa stores are large, with good selections of prepared foods and better bread than you'll find in most of Venice's bakeries. (The mini-baguettes are excellent, and the small ciabatta loaves are nearly as good.)
Another popular chain is the Coop Adriatica. The last time we checked, the group had Coop or InCoop stores on the Rio Terà SS Apostoli in Cannaregio (near Venice's only movie theatre), the Campo S. Giacomo dell'Orio in Santa Croce, the Fondamenta dei Vertrai on the nearby glassmaking island of Murano, and in several other locations--including a store at the Piazzale Roma, which has competitive prices because it can be restocked from land.

You'll also find a large Punto supermarket around the corner from the west end of the Campo Santa Margherita in Santa Croce. The store has a deceptively small entrance and is easy to miss; look for a doorway and a row of shopping carts across from the Il Doge gelato shop. (Unlike many Venice supermarkets, this one has been around for years, and it's much improved since a recent overhaul.)
Supermarket shopping tips:
When buying produce, you'll often need to put on a disposable plastic glove, fill a plastic bag, and weigh the bag on an electronic scale that has icons representing various fruits and vegetables. Wait for the scale to print a price label, then stick the label on the plastic bag.

At deli counters (or in independent meat and dairy shops), you buy cold cuts and cheeses by the etto or 100 grams, which is just under a quarter of a pound. For example, if you want 200 grams of prosciutto, point at the ham and ask for "due etti."

Supermarket shopping hours vary. In the last few years, many stores have extended their hours until late in the evening, and larger supermarkets are usually open on Sundays.

If you dislike crowds and get frazzled by long supermarket lines, try to avoid shopping during the evening rush.

If you have a tote or shopping bag, take it with you to the store. (Bags are usually available at the cashier for a small fee.)