Walking directions to Hotel Bauer / Bauer Il Palazzo
Click buttons to see lowest available rates and guest reviews for Hotel Bauer:

...and for Bauer Il Palazzo:

ABOVE: The Bauer

and its more exclusive sister property, Bauer Il Palazzo (yellow marker), are an easy walk from the Piazza San Marco and the San Marco Giardinetti airport-boat stop.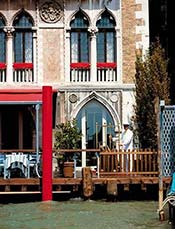 The Bauers consist of two neighboring properties, both with five-star ratings. The Hotel Bauer is a luxury hotel in a modern building just inland from the Grand Canal, while Bauer Il Palazzo is just what the name implies: an authentic, historic Venetian palace that is now a lavishly-decorated "heirloom and boutique hotel" for the upper crust.
Chances are, you'll be arriving by water taxi at the Hotel Bauer or Bauer Il Palazzo's private pier, but if you're willing to mingle with the hoi polloi on public airport boats, you can walk to the Bauers from San Marco Giardinetti. The walk is quick and easy, over level pavement.
How to reach the Bauer and Bauer Il Palazzo from the San Marco airport-boat stop:
As you leave the boat station, turn left and cross a small stone bridge.

Continue a few meters to the Calle Vallaresso and turn right.

Walk straight ahead down the Calle Vallaresso, past Harry's Bar and a row of designer shops.

At the first corner, turn left into the Salizzada San Moisè.

Walk straight ahead, past the Fendi and Prada shops. The street will broaden into the Campo San Moisè.

The Hotel Bauer is just beyond the San Moisè Church, on the south side of the small campo or square. (Look for the large modern building on your left, just before a bridge where gondoliers ply their trade.) Bauer Il Palazzo has its own entrance in a narrow street to the left of the Hotel Bauer, toward the Grand Canal.
From the Marittima cruise terminals:
Take the Alilaguna Blue Line airport boat from the ship basin to San Marco Giardinetti and follow the directions above.
Click buttons to see lowest available rates and guest reviews for Hotel Bauer:

...and for Bauer Il Palazzo:

---
---
---