About these Venice hotel pages:
We've included customized Google maps that you can zoom, rotate, or drag for better views.
If you see a conflict between our directions and a hotel's, rely on ours. (Hotel sites are often years out of date.) Ditto for maps: Our icons are hand-placed for accuracy, while GPS-based labels can be off by a street or more.
Finally, if you don't know the city's layout, see our Venice Orientation Map before booking.
Walking directions to
Hotel Locanda Ovidius
Click button for lowest available rates and guest reviews:

ABOVE: The Locanda Ovidius

is across the Grand Canal from the Rialto boat platforms of ACTV (Venice's transit system) and Alilaguna (which serves Marco Polo Airport).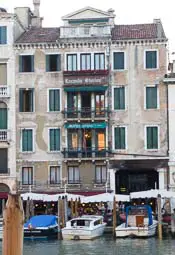 The three-star Hotel Locanda Ovidius is a small (15-room) hotel in a building that overlooks the Grand Canal near the Rialto Bridge. (The same building houses another three-star hotel, the Antica Locanda Sturion.) An elevator leads from the ground floor to the hotel, which occupies two floors. The more expensive rooms have canal views, and all guests can enjoy panoramic views of the water from the lounge and its balcony.
How to reach the Hotel Locanda Ovidius from the Alilaguna airport-boat stop at Rialto:
Take the Alilaguna Orange Line boat from the airport to Rialto.

As you leave the boat stop at Rialto, turn left and walk to the low bridge just ahead of you.

Cross the bridge, walk through the arcaded passage, and continue straight ahead to the Rialto Bridge.

Cross the Rialto Bridge to the other side of the Grand Canal. (We suggest using the bridge's center staircase, which is easier to navigate with luggage than the narrow and often crowded stairs by the water.)

At the bottom of the bridge, turn left immediately and walk along the water to the Calle del Sturion.

Turn right into the Calle del Sturion, where you'll see the hotel entrance.
Click button for lowest available rates and guest reviews:

---
---
---