Walking directions to Hotel Santa Chiara (with map)
Click button for lowest available rates and guest reviews: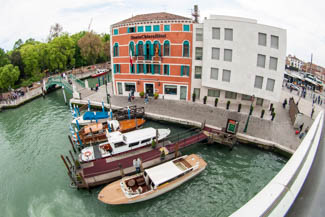 For convenience to airport buses, taxis, and the People Mover to the Marittima cruise terminals, the Hotel Santa Chiara is hard to beat: It's at the northeastern corner of the Piazzale Roma, next to the Calatrava Bridge that leads to the Santa Lucia Railroad Station. The hotel's location makes it popular, so book well in advance if you want to be sure of a room.
How to reach Hotel Santa Chiara from the Piazzale Roma: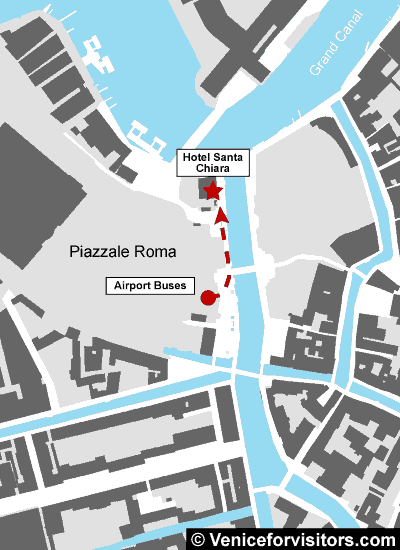 Walk toward the modern Calatrava Bridge at the northern edge of the square.

Go down the steps to the boat platforms. (If you have bulky luggage, use the ramp next to the ACTV ticket office.)

Immediately turn right and walk past the Calatrava Bridge to the hotel entrance.
From the Marittima cruise terminal:
Take a free shuttle bus (if available), a taxi, or the People Mover elevated tramway (just outside the port entrance) to the Piazzale Roma.

Follow the directions above.
From the Santa Lucia railroad station: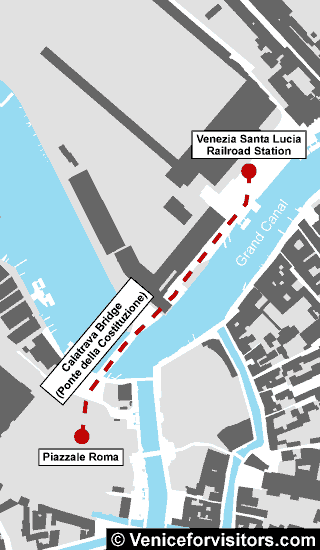 As you leave the station, turn right and walk past the large building to the Calatrava Bridge, a.k.a. the Ponte della Costituzione.

Cross the bridge to the Piazzale Roma. The Hotel Santa Chiara will be on your left, just a few meters from the bridge.
Click button for lowest available rates and guest reviews:

---
---
---