Venice Hotel Guide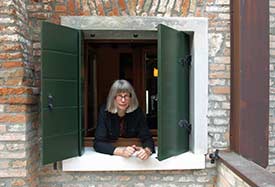 ABOVE: Cheryl Imboden surveys the private patio of a superior double room at the Alloggi Marinella in Venice.
---
---
---
---
---
---
---
---
---
---
Please note:
Some links within our hotel articles, maps, etc. are to pages of our hotel partners, Venere (Italy's leading reservations service) and Booking.com. These secure booking networks offer hotel photos, reviews by paying guests, and real-time booking of rooms at discount rates.

Venice's hotels tend to be small (many have fewer than 20 rooms), so don't dawdle if you want a room in a specific hotel. You can always cancel your reservation later if you change your mind.
The premier travel-planning site
for Venice, Italy since 1997

---

---

Too many bridges, too little time?

Read our No. 1 Venice Hotel Warning, then choose from hotels in all price ranges near airport buses, taxis, trains, cruise piers, and airport-boat stops. See:

---

Venice cruise guide:

---

120+ photo maps:

---

Our blogs:

---

More about Italy:

---

More about Europe:

---