Venice Apartments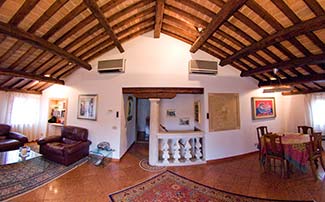 ABOVE: If you're staying in Venice for several days or longer, a vacation apartment can be an affordable alternative to a mid-priced hotel.
Homeaway: Venice
our partner
We've rented several apartments in Venice, Rome, and Paris through HomeAway and have had good experiences. HomeAway represents more than 400 properties in Venice and has an easy-to-use Web site.
An Apartment in Venice veniceforvisitors.com
We stayed in this moderately-priced one-bedroom flat near the Campo Santa Maria Formosa a few years ago. (This article is accompanied by a photo tour of the apartment.)
Palazzo Albrizzi Apartment veniceforvisitors.com
Live like an upper-class Venetian family in a 6-bedroom, 4-bath flat on the piano nobile of a palace near the Campo San Polo. (The apartment has been owned by the same family since 1650.)
@Home (Mitwohnzentrale)
Let Helga Gross and her staff a put you in a furnished apartment during your stay in Venice. See article.
A Home Away From Home europeforvisitors.com
Our Europe for Visitors article on vacation rentals describes the advantages of living like a local for a week or two. It includes pictures of a three-bedroom apartment that our family rented through Helga Gross of @Home (Midwohnzentrale).
VisitVenice.co.uk
Rent either of two apartments in Cannaregio, or consider booking both if you're traveling with relatives or friends. Amenities include a library of English-language books, a folder of touring tips, and rubber Wellies for the acqua alta season. (The owners are British, and you can pay in pounds or any other major currency.)
Campo S. Barnaba Apartment
Antonio Ruzzene's comfortable one-bedroom, two-story house just off the Campo S. Barnaba is handy to the Campo Santa Margherita, Accademia, and ship-watching on the Zattere. It's also within walking distance of the railroad station, the airport bus at the Piazzale Roma, and Alilaguna's Zattere airport-boat stop.
For additional property listings, which are presented without endorsement, please see:
Next page: More Venice Rentals