MS Casanova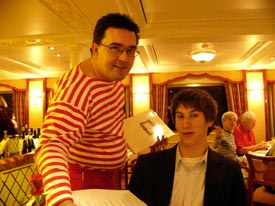 ABOVE: Waiter Mladen Tomljanovic dons gondolier garb on Italian Night in the restaurant.
Dining
Germans have a reputation for taking their food seriously, and the quality of hotel and restaurant food in Germany tends to be much better than in the United States or Britain. So it shouldn't come as a surprise that Peter Deilmann's Casanova lives up to its five-star ambitions in the dining room.
Breakfast consists of a buffet with fresh fruit, cereals, rolls, dark German breads, croissants and other pastries, cheeses, cold cuts, herring, smoked salmon, etc. Waiters are on hand to serve beverages, whisk away dirty plates, and take orders for fresh-cooked eggs or daily specials. Mineral water and sparkling wine, which you pay for at lunch or dinner, are free at breakfast. (Nicole, our beverage stewardess, told us that some guests like a glass of Prosecco to wake up in the morning. I tried a quarter-glass as a test but decided to stick with coffee. My son was pleased by the hot chocolate, which was excellent.)
Lunch is a choose-your-own-adventure affair where you can fill up a plate from the buffet or have a full meal served course by course. On most days, I grabbed a few salad and fish items from the buffet and skipped directly to the main course or requested pasta as an entrée.
At dinner, the menu typically features an appetizer, two soups, a fish or pasta course, a choice of entrées, and dessert. (On gala nights, a sorbet precedes the main course.) The restaurant's wood-and-marble buffet table is laid with a salad bar (with the term "salad" encompassing such luxuries as shrimp and fish), which is replaced by a selection of cheeses and fruit at the end of the meal.
Deilmann doesn't skimp on ingredients: High-quality fish is on the menu at nearly every midday or evening meal, and we were served lobster, large shrimp, lamb, veal, and duck at various times during the cruise. Baked goods are also excellent--most notably the cakes and other desserts, which are baked on board by a full-time pastry chef.
If sightseeing leaves you hungry for more than three square meals a day, you can top up your tummy with boullion at 11 a.m., finger sandwiches and cakes at afternoon tea, or the late-night snack in the lounge at 10:30 p.m. (On our voyage, Jozef--the Casanova's excellent pianst and vocalist--offered musical accompaniment during afternoon tea, the 6:30 p.m. cocktail hour, and the evening snack.)
About beverages:
Coffee, tea, ice water, and fruit juices are free. Other drinks cost extra at lunch and dinner, although complimentary sparkling wine and Kir Royale are served (and replenished generously) on gala nights. If you order a bottle of wine or mineral water in the dining room, your waiter will mark the bottle and save it for future meals.
Drink prices are in line with what you might expect on a European luxury vessel: On our cruise, a glass of German draft beer cost € 2,80, a bar-size bottle of soft drink was € 2,50, a 5-cl glass of vermouth cost € 2,90, grappa was € 3,80, and whiskies or cocktails were in the € 5,50 to € 6,90 range. Featured wines on the dinner menu typically cost € 20 to € 25, and a quarter-liter of the house white or red was less expensive than a glass of wine in a typical U.S. restaurant.
Next page: Service on the Casanova
---
---
---