MS Casanova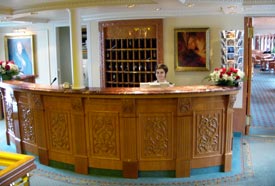 ABOVE: Casanova's helpful, multilingual reception staff offer the kind of service that you'd expect in a five-star hotel.
Overall rating
Based on a seven-day cruise, I'd rank Casanova with the best ships that I've traveled on over the years, from the S.S. France in the late 1960s to Silversea's Silver Whisper in 2002 and 2003. Casanova obviously can't offer the cabin space or the breadth of services and entertainment that you'd get with an oceangoing ship, but it's hard to imagine a river vessel delivering a higher level of fit, finish, and overall comfort.
Compared to the MS Maribelle, which I cruised on in 2003, Deilmann's Casanova is more of a deluxe "boutique ship" without being stuffy or pretentious. A Deilmann cruise also feels less like a group tour, partly due to the international passenger mix but also because the itinerary focuses less on shore excursions (which are optional on Deilmann but part of Viking's package--something to keep in mind if price is a major concern).
Bottom line: If you can afford a deluxe cruise on the Rhine, Danube, Moselle, or Rhine-Main Canal, Casanova is unlikely to disappoint you. It's a first-rate ship with a great crew from a company that pioneered luxury river cruising in Europe.
Next page: Web links
---
---
---