MS Casanova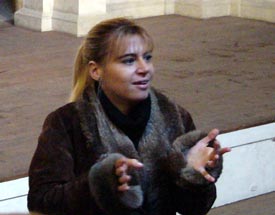 ABOVE: On most shore excursions, Casanova provides separate guides for German- and English-speaking passengers.
Shore excursions
Some river-cruise lines include shore excursions in their fares. Peter Deilmann doesn't, for a simple reason: Many of its passengers are Europeans or experienced travelers from abroad. Often, such guests have already visited towns along the cruise route and prefer to go exploring on their own.
Casanova and other Deilmann vessels do have optional shore excursions at reasonable prices; these range from city walking tours to half- and full-day outings, depending on the cruise itinerary.
In most cases, Deilmann splits tours into German- and English-language groups, with separate guides (and, in some cases, separate buses) for each. Free bottled water is handed out at the gangway, and the ship's breakfast and lunch schedules are adjusted where necessary to accommodate tour guests.
Next page: Overall rating
---
---
---