Europe > Cruises > Reviews > MSC Preziosa > Photos > Hamburg
MSC Preziosa Cruise Photos
From: MSC Preziosa cruise review: North Sea
Day 2: Hamburg, Germany
BELOW: MSC Preziosa arrived in Hamburg around 7 a.m. on a Sunday after traveling 77 nautical miles down the River Elbe.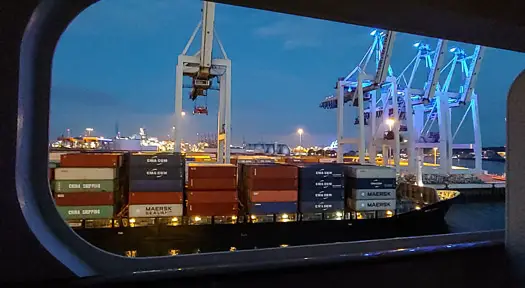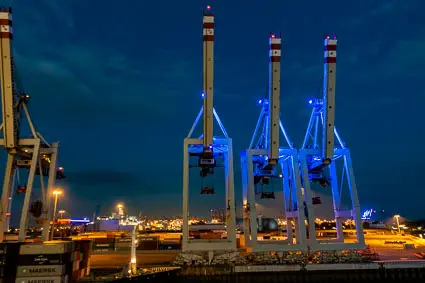 ---
BELOW: The ship moored at "Cruise Center 3" in the industrial harbor area of Steinwerder, a long way from the city center.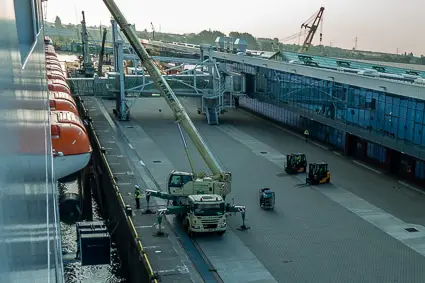 ---
BELOW: Hamburg was the busiest embarkation and disembarkation port on our itinerary, and a few passengers (probably German or Russian) were still collecting their bags when we went ashore around 9:30 a.m.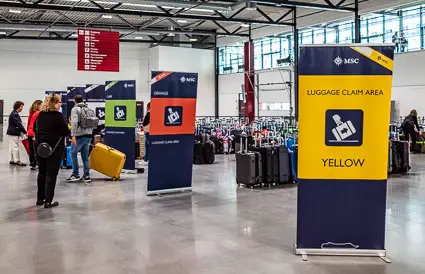 ---
BELOW: Normally we get around on foot or by public transit, but buses weren't running to Steinwerder on a Sunday, so we bought roundtrip MSC shuttle tickets to Hamburg's main railroad station for €16,99 each.
 Despite the long lines, it took only a few minutes to get loaded onto a bus.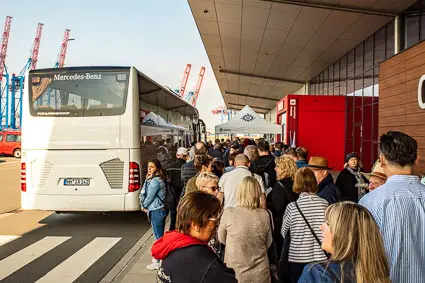 ---
BELOW: The bus trip to the Hauptbahnhof took slightly more than 20 minutes.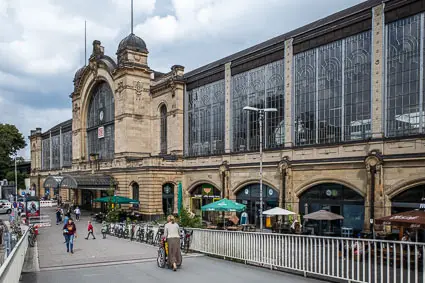 ---
BELOW: We're transportation buffs, so we couldn't resist snapping a picture of Hamburg Hbf's well-lit and airy station platforms, which hadn't changed much since our previous visits.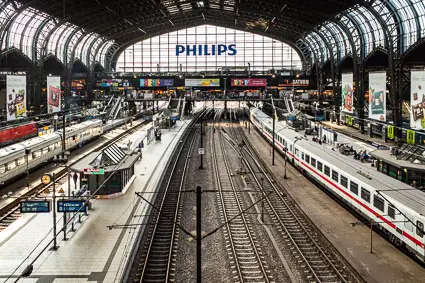 ---
BELOW: As we left the station, we discovered that a foot race was in progress. Locals and tourists watched the runners from the sidewalks.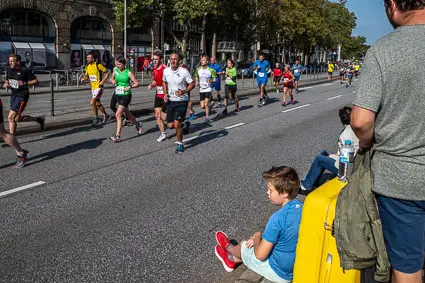 ---
BELOW: The race's finish line was in Hamburg's main downtown retail district, which was empty on a Sunday morning (except for race fans) because of Germany's strict limits on shopping hours.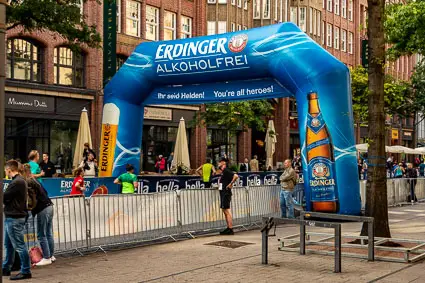 ---
BELOW: Instead of wandering around downtown on a Sunday morning, we decided to visit central Hamburg's two lakes, the Binnenalster (Inner Alster) and Außenalster (Outer Alster).
The photo below shows the Inner Alster, which abuts the city center.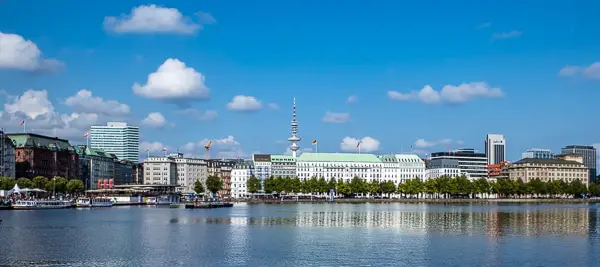 ---
BELOW: It was a warm and sunny day, so the vintage sightseeing boats that crisscross and connect the lakes were doing a lively trade.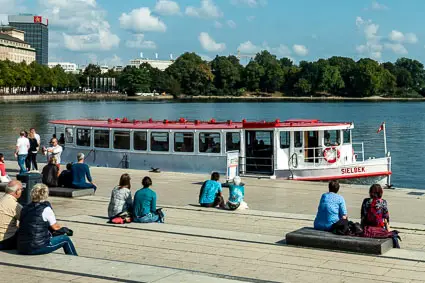 ---
BELOW: We'd hoped to find a Bratwurst vendor (something we always look for in German cities), but no joy. We ended up taking a pedestrian and bicycle tunnel beneath a Deutsche Bahn railroad line to the Außenalster, which is the larger and more bucolic of the two lakes.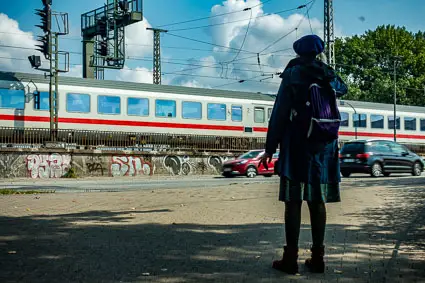 ---
BELOW: A sightseeing boat was headed in the same direction, using the water channel between the Binnenalster and Außenalster.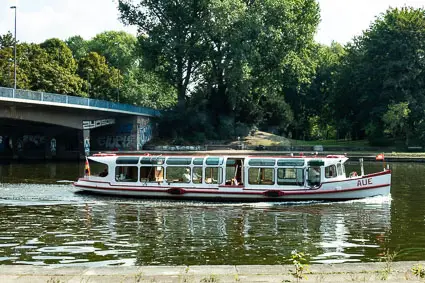 ---
BELOW: The Außenalster is many times larger than the more urban Binnenalster. It's fed by a stream from outside the city limits, and it's a haven for ducks and other wildlife.
 From a park bench near the southern shore, we watched a team from a rowing club run (or pull) through their paces.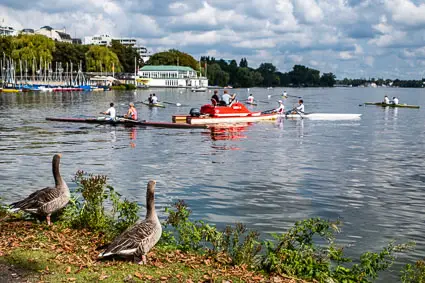 ---
BELOW: As the parents of a U.S. Foreign Service officer and a USAID officer, we couldn't help noticing the United States Consulate General offices along the western edge of the Außenalster and its park.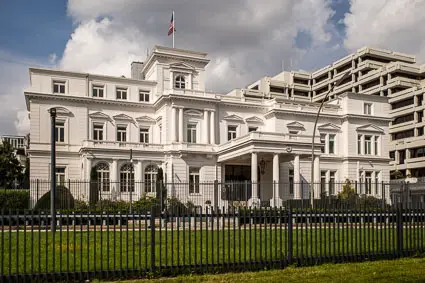 ---
BELOW: The consulate was just one of many mansions and apartment houses next to the lake--including the fantasy castle shown here: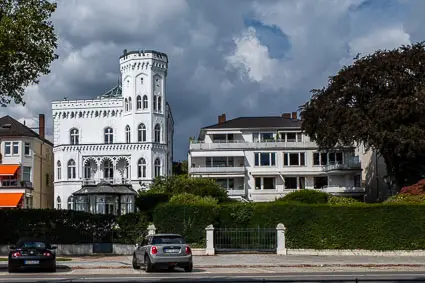 ---
BELOW: As much as we were enjoying our walk in the park around the Außenalster, we wanted to see the residential neighborhoods close by.
We headed west (missing the dog park, which we later saw on a map) and passed a bike-sharing station that offered free air.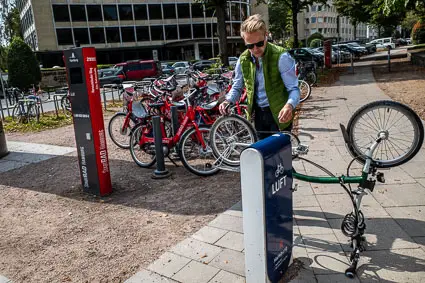 ---
BELOW: The neighborhood of Harvestehude was filled with attractive apartment buildings. This one was equipped with a bicycle ramp made of cobblestones.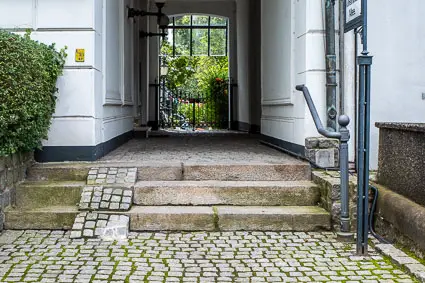 ---
BELOW: As we continued on our walk, we passed something that one doesn't see every day: A  U-Bahn or subway station with a good-size bookstore.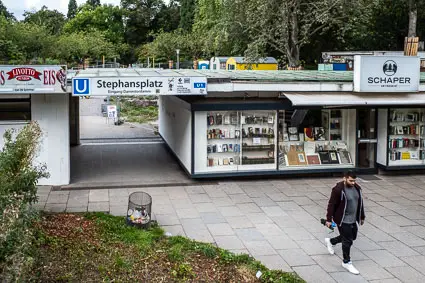 ---
BELOW: Our next destination was Planten un Blomen, Hamburg's most famous park. The lake, flower beds, and footpaths were a pleasant place to wander on a sunny Sunday afternoon in September.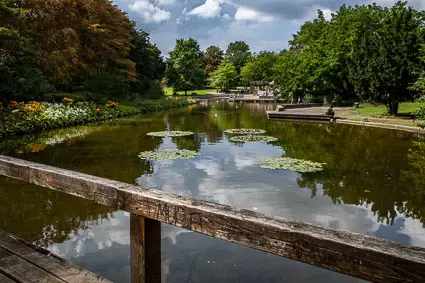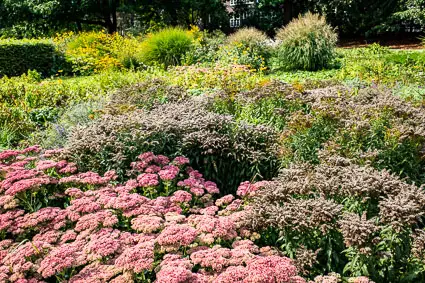 ---
BELOW: Our walk led us to the River Elbe and the Landungsgebrücken (a.k.a. St. Pauli Piers), the busiest water-transportation hub in Hamburg.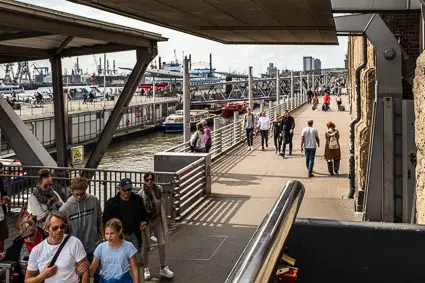 ---
BELOW: The piers are a major attraction for tourists and locals, with plenty of sights, excursion boats, and restaurants to entertain human and canine visitors.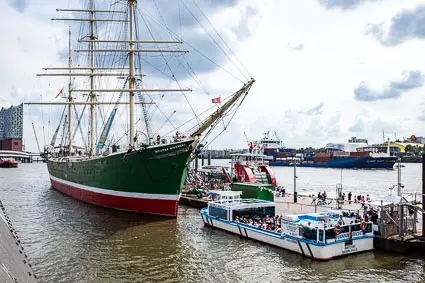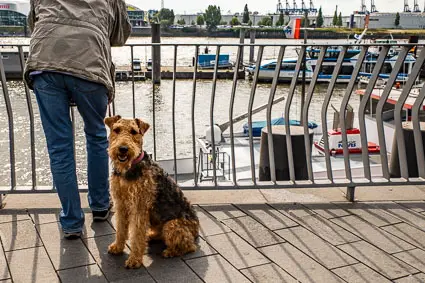 ---
BELOW: "All aboard" time on MSC Preziosa was 6:30 p.m., so we decided that it was time to head for the shuttle bus. We saw this handsome Hanseatic manhole cover along the way: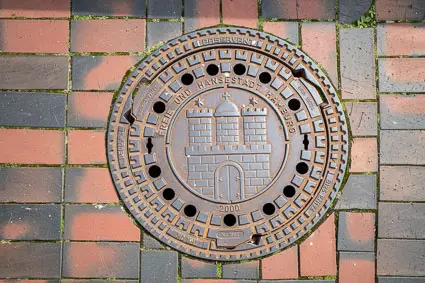 ---
BELOW: Our walk took us along the Elbe, where we saw another in a series of cleverly-labeled trash receptacles: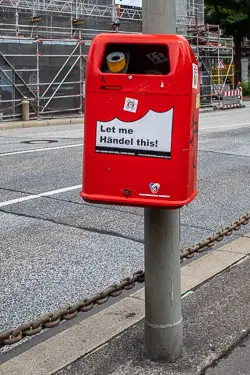 ---
BELOW: We passed the Deutsches Zollmuseum (German Customs Museum), which had a Coast Guard vessel moored alongside.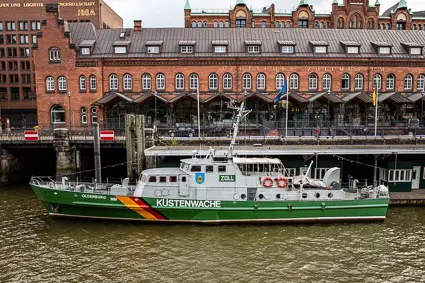 ---
BELOW: We got a nice view of Hamburg's HafenCity, or Harbor City, which is Europe's biggest inner-city development project. The building in the background is the new Elbphilharmonie,, which incorporates two concert halls, a hotel, and apartments.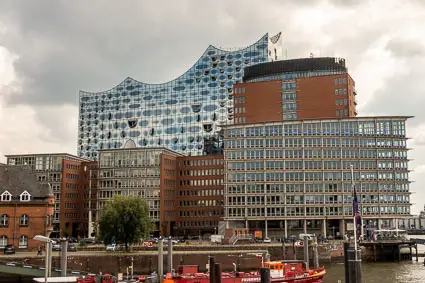 ---
BELOW: An MSC Preziosa shuttle bus was waiting when we returned to the Hauptbahnhof.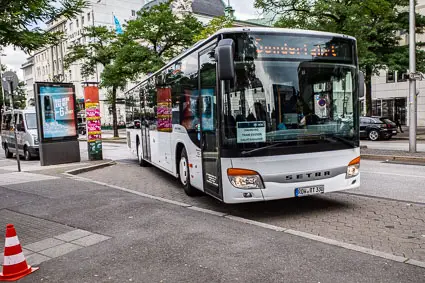 ---
BELOW: When we arrived at the cruise terminal, luggage was already being loaded onto the ship as new passengers came on board.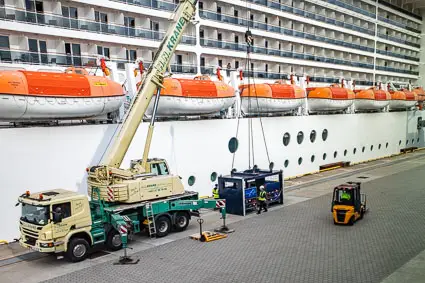 ---
BELOW: This photo, taken from the pier, shows balconies and lifeboats on MSC Preziosa. (Note: Most of the ship's balconies have transparent barriers under the railings, but some cabins--including our forward cabin on Deck 9--have metal walls with cutouts.)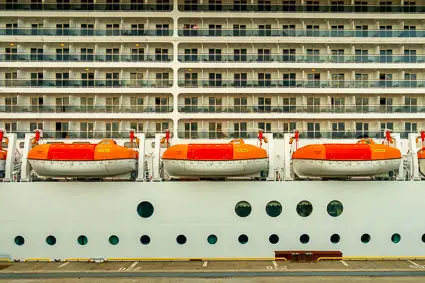 ---
BELOW: Once we were back on board, we could see that MSC Preziosa was a tourist attraction (at least for the day), with sightseeing vessels and private boats cruising by in the late afternoon.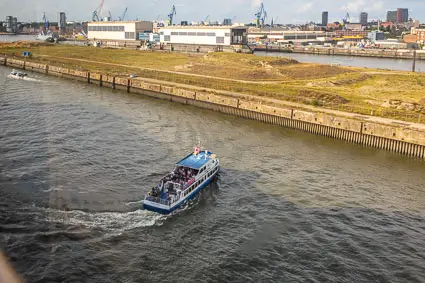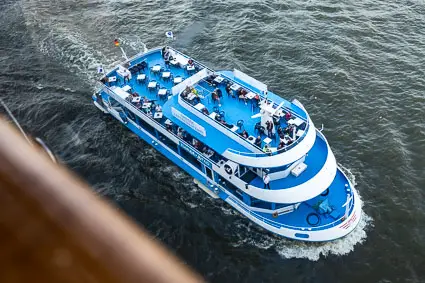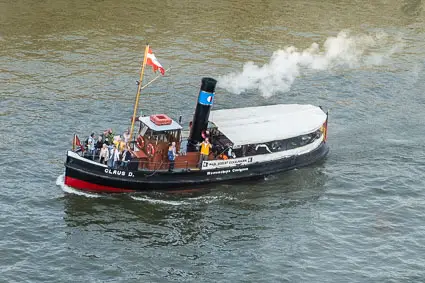 ---
BELOW: At the scheduled hour of 7 p.m., dockworkers unhitched the ship's mooring lines, and we were on our way to Le Havre.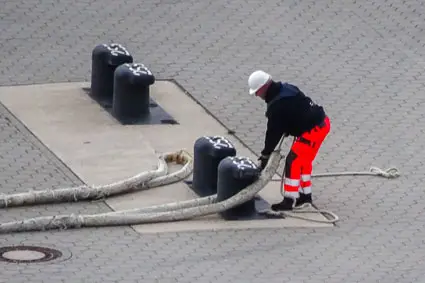 ---
BELOW: Passengers who had boarded in Hamburg waved good-bye to friends and relatives on the pier.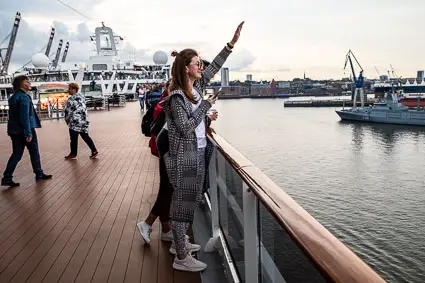 ---
BELOW: In the minutes following our departure, we sailed past harbor offices, military ships, and a containership that was arriving in Hamburg's industrial port.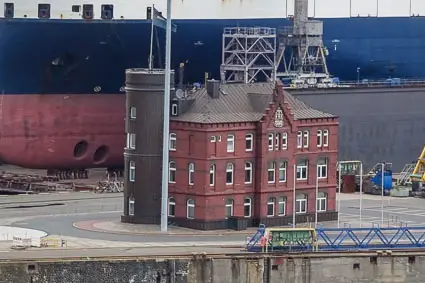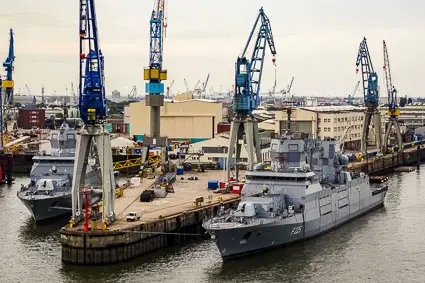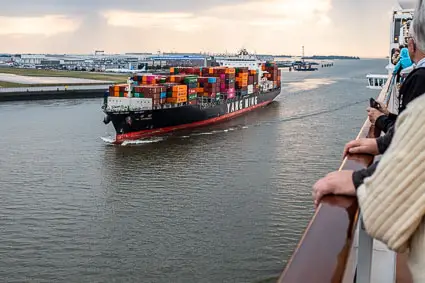 ---
BELOW: Other sights along the river included container cranes, a public water bus, and a high-speed Helgoline ferry from the North Sea archipelago of Heligoland.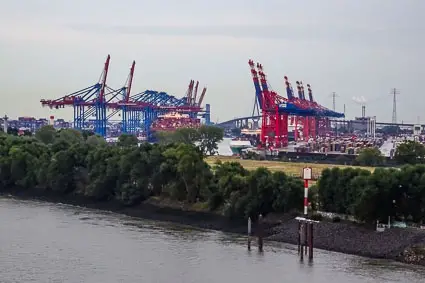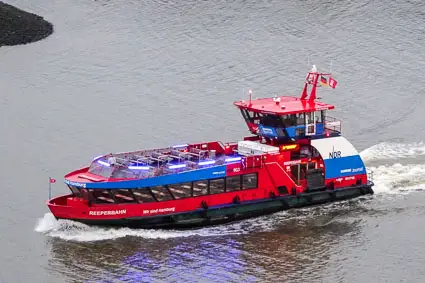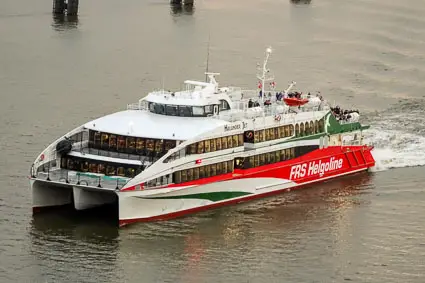 ---
ABOVE: After we'd left the city, a boat pulled alongside, collected the harbor pilot, and headed back to port.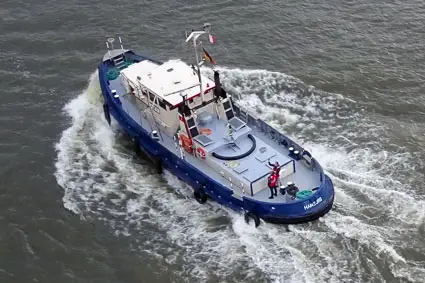 ---
ABOVE: Beyond central Hamburg, we passed more boats--including moored tugboats, a fireboat, and the vintage icebreaker Stettin at the Museumshafen Oevelgönne.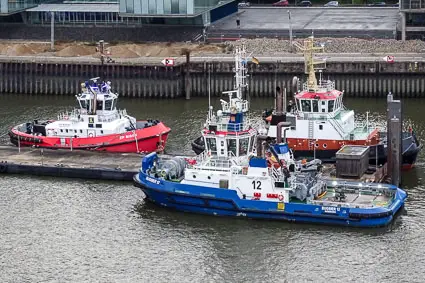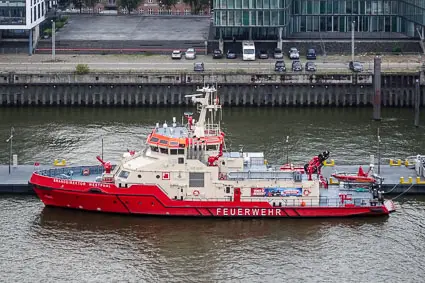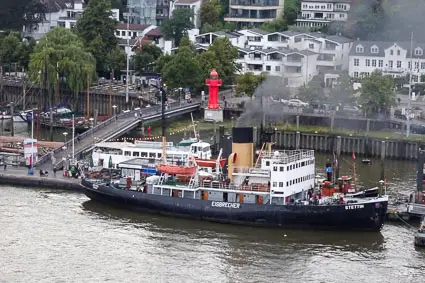 ---
BELOW: Soon we passed the Airbus plant at Hamburg/Finkenwerder, which has its own airfield and a waterbus station. Planes of the A318, A319, A320 and A321 series are assembled here.
Note the decommissioned "Super Guppy Turbine" in the third photo, which was used to transport components to the Airbus final-assembly plant in Toulouse, France during the 1970s.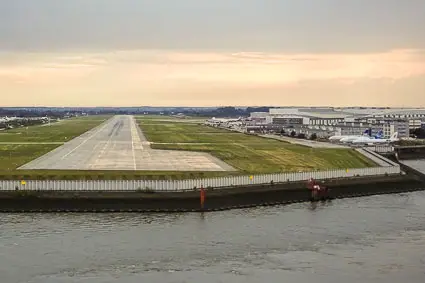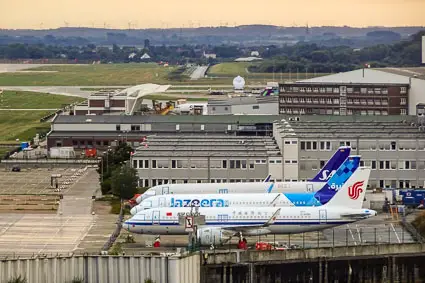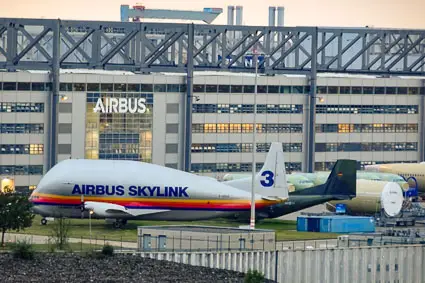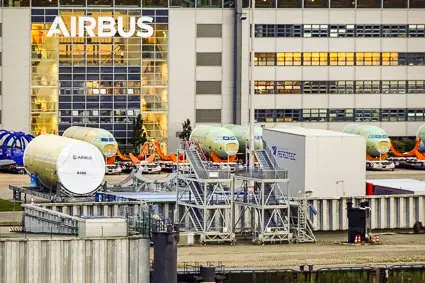 ---
BELOW: Industrial views were replaced by a hint of Freikörperkultur as we witnessed a topless-photo shoot on the river's right bank.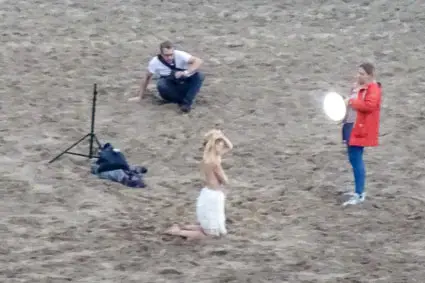 ---
BELOW: As the sun went down, MSC Preziosa cruised past Hamburg's outer districts and suburbs--including Blankenese with its lighthouse.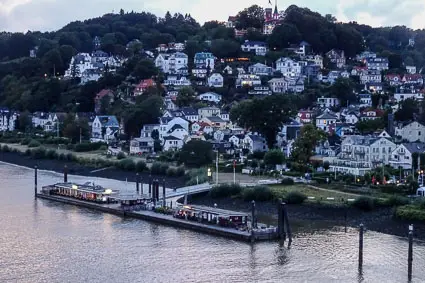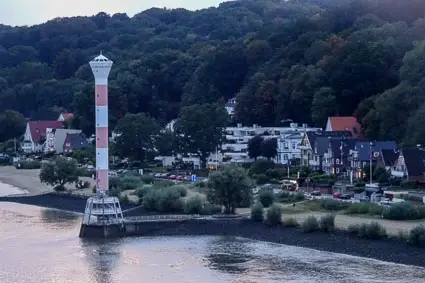 ---
BELOW: Our final picture of the day was a sunset on the Elbe as MSC Preziosa cruised toward the North Sea.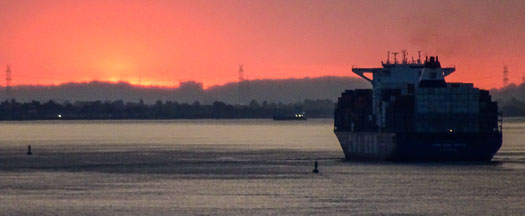 Next page: Sea Day 2
---
---
---
---