Ice Bar Stockholm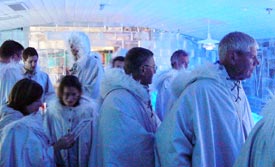 By Durant Imboden
The Ice Bar Stockholm gives new meaning to the phrase "on the rocks." Drinks are served in fist-sized hollow ice cubes, and the barmaid plunks them down on a bar made of clear ice blocks.
The walls and tables are also built with ice harvested from the Torne River on the border between Sweden and Finland, where the Ice Bar's management has operated the widely publicized Ice Hotel in Jukkasjärvi since 1989. (The ice bar and its frozen furnishings are rebuilt every six months.)
Stockholm's Ice Bar, which opened in 2002, is the first of its kind in the world. It's also the most celebrated alcoholic attraction in Sweden: It drew 70,000 visitors in its first year, has been featured on the BBC and CNN, and has been frequented by such celebrities as Pierce Brosnan and Sweden's own Stellan Skarsgård.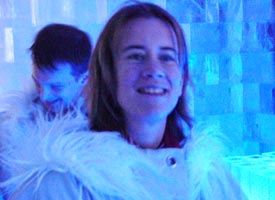 ABOVE: Claudia Quas of the Stockholm Visitors Board looks toasty and tantalizing in an Ice Bar cape.
The Ice Bar experience
When you arrive at the Ice Bar, you pay a cover charge, stick out your arms, and stand still while an Ice Bar employee fits you with a silvery cape-parka. Next, you step into an air lock, close the door, and open another door that leads into the Ice Bar's frozen inner sanctum. (To prevent body heat from damaging the pristine surface of the ice blocks, the bar has a maximum capacity of 30 visitors.)
The Ice Bar is refrigerated to -5° C (23° F), so you'll probably want to pull up your hood (trimmed in white fluffy fake fur) and slip into your knitted gloves, which dangle from the cape like a preschooler's mittens from a snowsuit. You can now advance to the bar and order from the drinks menu, with choices that include cocktails made with flavored Absolut vodkas and fruit juices plus several non-alcoholic drinks.
There aren't any bar stools (prising visitors' bottoms from ice blocks raises liability issues), but you can rest your elbows on the ice bar or ice tables if you can take the cold. If you're like most visitors, you'll probably split your time between drinking and snapping photos of your companions. After 20 or 30 minutes, you'll be ready to return through the air lock, hand over your parka, and maybe buy a white-on-white souvenir t-shirt on your way to the hotel's lobby.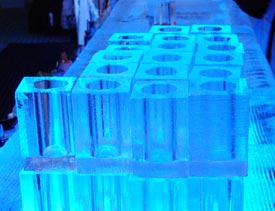 ABOVE: Ice "glasses" await drinks at the Absolut Ice Bar in Stockholm. INSET BELOW: Paul Lasley co-hosts "On Travel" for CNN Radio and XM Satellite Radio when he isn't modeling polar fashions in Sweden.
Planning your visit
The Ice Bar Stockholm is just off the main lobby of the Nordic C Hotel in downtown Stockholm. The hotel is on Vasaplan, a short east-west street between the Arlanda Express terminal and Vasagatan. The T-Centralen tunnelbana (underground) station is close by.

The bar is open year-round, with hours varying by season.
Although the Ice Bar supplies a cape-parka, mittens, and (if needed) protective footwear, I'd suggest wearing adequate clothing and shoes to avoid being chilled.
For up-to-date information, see the Ice Bar Stockholm's Web site.
---
---