Regensburg Photos
From: Regensburg, Germany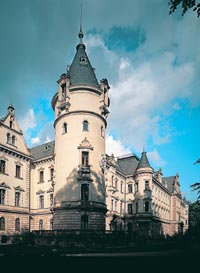 Palace of Thurn and Taxis
The Schloss Thurn und Taxis is a "must-see" for fans of aristocratic excess. It's said to have more rooms than Buckingham Palace, and the rooms are stuffed with antiques and gilded knick-knacks--even after the family auctioned off treasures worth €27 million to pay debts and tax bills.
The founder of the dynasty made his fortune with Europe's first postal monopoly; subsequent generations managed to fritter it away until Princess Gloria, the young trophy wife of the late Prince Johannes of Thurn und Taxis, straightened out the family finances after her husband's death.
---
---
Photo copyright © Presse- und Informationstelle der Stadt Regensburg.