Regensburg Photos
From: Regensburg, Germany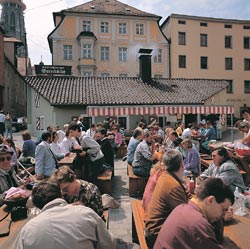 Regensburg restaurants
Sausages are always the dish of the day at the Historiche Wurstküche next to the Steinerne Brücke and the excursion-boat landing. The Historic Sausage Kitchen has been serving breakfast, lunch, and dinner in a tube for at least 500 years.
In warm weather, you can eat at the picnic-style tables outside; in winter, you'll have to squeeze into the cozy building for your order of 4, 6, 8, or 10 sausages on a bed of sauerkraut. (The sausages are small, so don't be afraid to follow local custom by ordering a big batch.)
---
---
Photo copyright © Presse- und Informationstelle der Stadt Regensburg.