Travemünde Photos
From: Travemünde, Germany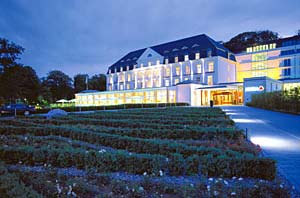 A-ROSA Travemünde





The Grand Spa Resort A-ROSA Travemünde is the latest incarnation of a spa hotel that opened on Travemünde's seashore in 1912. The original building (now an historic landmark) has been supplemented with a modern wing and a state-of-the-art spa that offers thalassotherapy treatments such as whirlpool baths, sea-salt baths, algal baths, and applications of sea mud.
The 4,500 mē spa even has its own seawater pipeline to bring the Baltic into the 11 treatment booths. Other facilities include heated indoor and outdoor seawater pools, themed saunas, massage suites, an ice grotto, fitness rooms, a children's pool, and Dermatologikum Travemünde, a medical clinic that specializes in skin care.
But there's a lot more to the A-ROSA than its spa: The original and new wings of the hotel are beautifully decorated in a fresh, modern style, and some of the design touches are extraordinary (such as the use of different colors for each section of a long hallway, which creates a stunning visual effect as you walk along the corridor). We inspected several rooms, and all were attractive--especially the suites with their private terraces.
The hotel has five venues for food and drink: the Market Restaurant, where guests can request a dietician's advice on menu selections; the gourmet restaurant Buddenbrooks, in the historical listed Lübeck Room; a wine bar with a terrace Champagne bar in warm weather; and the Enoteca, which combines a wine shop with a tasting room an open fireplace.
During our wintertime visit, the hotel was surprisingly busy with guests from Hamburg and other German cities who'd come for a weekend of rejuvenation by the sea. It's worth considering if you'd like a break from city sightseeing, enjoy spa treatments, and can afford the luxury rates.
For more information, visit the A-ROSA Travemünde Web site.
---
---
---
---