Europe > Germany > Munich > Accomodations > Airport hotels
Munich Airport Hotels
From: Munich, Germany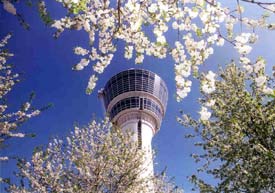 ABOVE: Control tower and cherry blossoms at Munich International Airport.
Airport hotels
Should you stay at a hotel close to Munich International Airport? If you have an early-morning flight, the location is convenient, because it will save you from having to allow time for a 40- to 40-45 minute S-Bahn, bus, or taxi ride from the city center.
Otherwise, we'd recommend staying near the Hauptbahnhof (Munich's central railroad station) and catching the S-Bahn to the airport on your day of departure. That way, you'll have more to do in the evening, and you might save a few euros in the bargain.
Still, if you want to stay close to the terminals, here are two hotels that are located right on the airport grounds:
Hilton Munich Airport
This ultramodern luxury hotel at Munich International Airport is a short walk from the terminals and the München Airport Center shopping mall. See our illustrated review of the hotel, which was designed by architect Helmut Jahn.
Novotel München Airport
The 257-room Novotel is geared to middle-class business and family travelers. All rooms are soundproofed, handicap rooms are available, and Wi-Fi is free.
---
---
---