Europe > Germany > Munich > Guide > Tourist information
Munich Tourist Information
From: Munich Travel Guide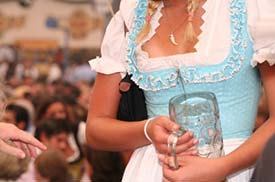 ABOVE: A waitress at Oktoberfest.
Munich Tourist Office
The Munich Tourist Office has two information centers: a year-round location in the Neues Rathaus on the Marienplatz, and another seasonal office at the Hauptbahnhof or main railroad station. Hours vary according to the time of year and and the day of the week. (Click here for more information.)
Related links
Germany Tourism
The Germany Tourist Board's international site has icons for local sites in more than two dozen countries or regions, including the United Kingdom and the United States and Canada.
Bavaria Tourism Marketing
The state of Bavaria's tourist-information site is worth a visit if you plan to travel outside of Munich.
Germany Home Page - Europeforvisitors.com
Explore our growing collection of illustrated articles and guides to German cities, car tourism, Christmas markets, and other topics (including towns in Bavaria such as Garmisch-Partenkirchen, Regensburg, and Rothenburg ob der Tauber.)
Top photo copyright © Tom Gufler.