Munich Photos and Webcams
From: Munich, Germany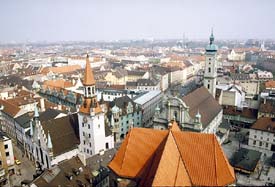 ABOVE: Looking down on Munich's Altstadt.
Photos
Third Reich Architecture in Munich
These pictures are from A Teacher's Guide to the Holocaust. Click on the top thumbnail and use the "next" buttons to view the photos as a slide show.
Zanzig.com: Munich Travel Photos
Mark Zanzig, who lives in Munich, presents a gallery of photos from his city (and from other European destinations as well).
Webcams
Munich, Marienplatz
See what's happening downtown, courtesy of Camteria.
Municam
Three scenic Webcam views are updated every 15 seconds.
---
---
---