Munich Shopping Links
From: Munich, Germany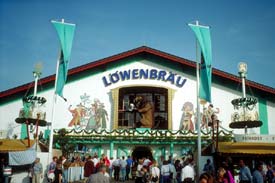 ABOVE: If you can't attend Oktoberfest, have your own Bavarian Bierbust at home with a souvenir mug from L÷wenbräu, Hofbräu, or one of Munich's other famous breweries.
Shopping guides
Fodor's: Munich Shopping
Read the introduction, then use the menu above to read about selected shops, markets, and department stores.
Shopping in a German Market Place
Vanessa Rosenfeld describes a foray into the Viktualienmarkt in the city center.
Tip: If you want to shop on a Sunday, take the S-Bahn to Munich Airport Center at Munich International Airport. Because the mall is technically part of the airport, it's exempt from legal restrictions on opening hours (which is why it's frequented as much by Munich residents as by airline passengers).
---
---
---