ABOVE: Abigaille (Maria Guleghina) confronts her father, Nabucco, as Babylonian priests prepare to sacrifice the Jews on the altar of Baal. INSET BELOW: Abigaille with Ismaele.
The libretto of Nabucco, written by Temistocle Solera, is based on a Bible story about the conquest of the Jews by the Babylonian king Nebuchadnezzar, whose Italian name was Nabucodonosor, a.k.a. Nabucco.
When the opera begins, the Jews are about to be defeated by the Babylonians, with Nabucco and his army at the gates of Jerusalem. The high priest Zaccharia asks his Chosen People to trust in God; in the meantime, Fenena--Nabucco's younger daughter, who is being held hostage by the Jews--is in love with her jailer, Ismaele, who was once saved by Fenena when he himself was being held hostage by the Babylonians.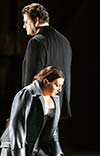 The two are preparing an escape when Abigaille, Nabucco's older daughter, gets wind of their plans and threatens to spill the beans unless Ismaele dumps Fenena and becomes her lover. The plot thickens when Nabucco enters, the high priest Zaccaria threatens to kill Fenena, and Ismaele saves Fenena from Zaccaria's dagger.
As the story progresses, Abigaille learns that she was born a slave and adopted. Nabucco has appointed Fenena regent, and Fenena makes the locals happy by converting to the Jewish faith. Abigaille plots to seize the throne, Nabucco is stunned by heavenly lightning after declaring himself a god, and Abigaille picks up the crown.
In Act Three, Abigaille has obtained a decree of death for the Jews (including Fenena) and wants Nabucco to sign it, but Nabucco begs for Fenena to be saved. Abigaille tears up the document that revealed her slave origins, takes her adoptive father prisoner, and prepares to have the Jews executed. The high priest Zaccharia trots out a prophecy to cheer up his people as they long for their distant homeland.
The tension is cranked up in Act Four, when Nabucco regains his senses and seen Fenena being taken to the altar of Baal for sacrifice. He prays to the god of the Jews, leads a revolt against Abigaille, frees the prisoners, and promises to build them a new and bigger temple. Abigaille takes poison, seeks forgiveness, and dies; Zaccaria proclaims Nabucco the king of the world, and the curtain comes down on the happy multitude (including Fenena and Ismaele, who are now free to marry).