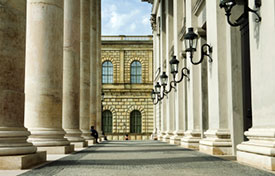 In this side view of the Nationaltheater's main entrance, you can see the Residenz (the former palace of Bavaria's electors and kings) beyond the columns and steps.
---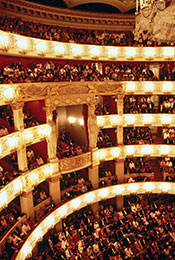 The interior of the Nationaltheater has five balconies or rows of boxes, including the King's Loge (the large box in the center of the photo). Some seats of the top balcony have lighting so that music students can follow printed scores during performances.
The "Angels' Loge," on the top balcony next to the proscenium, is occupied by spotlights and late-arriving patrons (who are banished to the nosebleed galleries until intermission).
---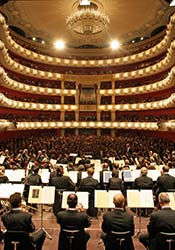 The Nationaltheater is also used for ballets and instrumental performances. This photo shows a view from the stage during an orchestral concert, with the musicians facing the audience.
---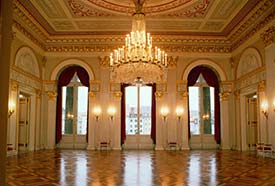 The Königsaal, or Royal Reception Room, is normally included in the guided theatre tour.
Back to: Nationaltheater Tours - Page 1
---
---
---
---
Top photo copyright © Arne Trautmann.
Interior photos copyright © Wilfried Hösl; used by permission of the Bayerische Staatsoper.