Olympus 8mm Fisheye Lens
Sample travel photos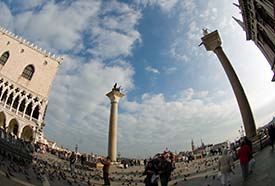 ABOVE: The Piazzetta in Venice, Italy, photographed with the Olympus Zuiko 8mm f/3.5 fisheye lens on an Olympus Evolt E-510 DSLR.
Also see: Fisheye Venice at Venice for Visitors
Fisheye lenses are often regarded as one-trick ponies, and traditional circular fisheyes may fall under the heading of "gimmick lenses." However, a full-frame fisheye lens such as the Olympus Zuiko 8mm f/3.5 fisheye can be extremely useful--and versatile--for travel photography. In certain applications, it offers advantages over conventional rectilinear wide-angle lenses:
The curvature of a fisheye view can be used to emphasize or de-emphasize parts of a scene. (Some critics might prefer to use the word "distortion," but all wide-angle lenses, whether rectilinear or fisheye, introduce distortion--they just distort the scene in different ways.)
Fisheye lenses tend to be smaller, lighter, and less expensive than today's popular rectilinear wide-angle zoom lenses, and some of them--such as the Olympus Zuiko 8mm--offer relatively wide apertures that can be useful for building interiors where flash photography is forbidden or impractical.
On the following pages, you'll see examples of photos that were taken in Venice, Italy with the Olympus Zuiko 8mm f/3.5 fisheye lens, which I purchased (along with an Olympus Evolt E-510 DSLR camera) about a week before taking the pictures.
The images were saved in RAW format, and given minimal post-processing (mostly with automatic settings) in Adobe Photoshop Elements 5.0. I've reduced the images to a size of 600 x 450 pixels for ease of downloading and viewing. (Unlike the 275 x 186-pixel photo at the top of this page, the samples on the following pages have not been cropped.)
Note: I'm a travel writer and publisher, not a professional photographer, so please don't judge the lens by any photographic inadequacies that you may notice in the sample photos.