Paris > Viator
Viator Airport Transfers, Tours, & Day Trips
Reserve a shuttle from the airport to your hotel, book an excursion, or plan an activity in Paris.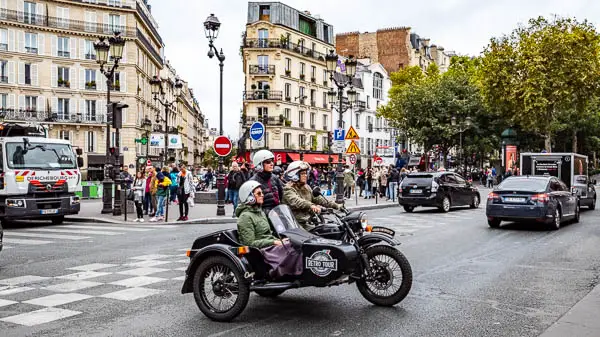 ABOVE: Visitors to Paris enjoy a private vintage motorcycle with sidecar tour.
By Durant Imboden

Viator, our affiliate partner since 2001, can help you reach your hotel from the airport, see the sights, book day trips, or enjoy cooking classes, wine tasting, and other activities in Paris. Click the links below for product listings:

Paris airport transfers
Save money with a shared shuttle van to your hotel, or enjoy the convenience of a private car with driver.
 Airports include Charles de Gaulle, Orly, and Beauvais-Tillé, with drop-off/pickup locations in the city center and Disneyland Paris.

Tours and activities
Reserve a "Skip the Line" tour at museums and other attractions (such as the Louvre or the Eiffel Tower), book a day trip to Versailles or Giverny, pre-order tickets for "hop on, hop off" sightseeing buses, cruise on the Seine, enjoy dinner and a show at the Moulin Rouge, take a cooking class, or pick from more than 2,500 other activities.
Note: Viator was founded in 1995 and is one of the world's leading airport transfer, sightseeing, and activities platforms. It works with local tour operators and transportation companies to provide easy online bookings in a variety of currencies. (We receive a small commission on Viator bookings.)