Boat Cruises from Biel/Bienne, Switzerland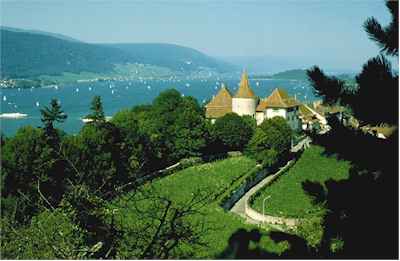 ABOVE: Erlach Castle, Bielersee (Lake Biel/Bienne).
The bilingual city of Biel/Bienne makes a fine jumping-off point for cruises on the Bielersee (Lac de Bienne), Lac de Neuchâtel, and the Murtensee (Lac de Morat). Swiss lake steamers ply a variety of routes. The main sailing season is June through September, with some boats running on a limited schedule from early April until late October. Not all boats stop at every village along the way, so check schedules carefully if you intend to disembark between major ports.
All boats have snack bars, and some have restaurants. (Restaurant reservations are advised for breakfast, lunch, and dinner sailings.)
Most boats carry a limited number of bicycles for a small fee.
Biel/Bienne - Erlach (Bielersee cruise)
Some of the boats on this route go only to St. Petersinsel (see next paragraph), but most finish their journey at Erlach. (See photo above.) The Bielersee is a relatively small lake with beaches on the southern shore, wine villages on the northern hillsides, and walking paths that make it easy to combine boat travel with leisurely hikes.
If you're a bird and wildlife buff, allow time for a visit to the nature preserve of St. Petersinsel or Île St-Pierre (St. Peter's Island). You can visit the restored inn (a former monastery) where Jean-Jacques Rousseau took a break from civilization for two months in 1765.
Biel/Bienne - Murten/Morat (Three lakes tour)
In summer only, a boat leaves Biel/Bienne at 9:45 a.m. and arrives at Murten/Morat at 1 p.m.
The next leg of the itinerary departs Murten/Morat to Neuchâtel at 2:30 p.m, arriving in Neuchâtel (the largest town in the region) at 3:45 p.m. After a 10-minute stop in Neuchâtel, the boat returns to Biel/Bienne, arriving at 6:20 p.m.
An audioguide is available at extra cost.
Biel/Bienne - Solothurn (Aare River tour)
Depending on the season, boats leave Biel/Bienne two or three times a day--except on Mondays, which is the shipping company's day off.
The journey down the Aare River to Solothurn takes about just under three hours. From Solothurn, you can return by boat or catch one of the frequent trains on the Olten-Solothurn-Biel/Bienne route. (The rail journey takes only 20 to 30 minutes.)
For more information on lake cruises from Biel/Bienne, including current fares and timetables, see:
BSG - Bielersee Schifffahrt/Navigation Lac de Bienne
The boat company's official Web site has information in English, German, and French
Neuchâtel - Biel/Bienne
If you're staying in Neuchâtel and want to cruise the three lakes on your way to Biel/Bienne, you may find it more convenient to use this company:
Navigation Lacs de Neuchâtel et Morat
Select English or another language, then view the timetables in PDF format. (Look for a table that reads "Croisière des trois lacs/Drei-Seen-Schiffahrt." You'll note that there's some overlap between this company's timetables and the BSG's, since the two firms cooperate with each other.)
Related articles
Biel/Bienne switzerlandforvisitors.com
A 16th Century old town and a bilingual culture enliven a city that Rolex, Omega, and Swatch call home.
Neuchâtel switzerlandforvisitors.com
The capital of Canton Neuchâtel (a mostly French-speaking canton) is also a watchmaking center. It has an attractive medieval center and an attractive location on Lake Neuchâtel.