Swiss lake steamers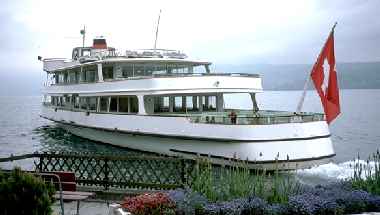 ABOVE: Excursion boat on Lake Thun.
The phrase "Swiss transportation" conjures up images of mountain railways, cablecars, funiculars, and chair lifts. But in a land where nearly two-thirds of the surface area is covered by Alps, there's plenty of snow to melt in the springtime, and much of the resulting water ends up in large lakes. With all that liquid lying about, it's hardly surprising that Switzerland--the undisputed world leader in public transportation-- has developed a network of more than 100 boats on 14 lakes to serve tourists and its own citizens.
Red flags in the sunset
The typical Swiss lake steamer is either a modern diesel-driven boat or a traditional steam-driven sidewheeler. A few of the older steamers date back to the early part of the century. Regardless of their age or means of propulsion, the immaculate white vessels make a beautiful sight as they chug across the lakes with the red Swiss flag whipping above their wakes.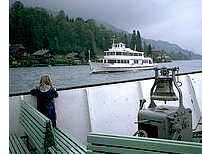 Most boats have two decks--an upper deck for first class, and a lower deck for steerage. (TIP: Second class is perfectly comfortable, although first class is closer to the life rafts.) On some sailings, especially during the off-season, you may encounter smaller boats that make up in coziness what they lack in amenities.
You'll normally find a buffet where you can get drinks and snacks. A few vessels have full-scale restaurants that serve up lunch, dinner, and nighttime entertainment during two- or three-hour cruises. It's a good idea to book ahead for meal cruises, which frequently attract locals whenever the weather is decent.
NOTE: Although tables can be reserved for meals, it's strictly open seating in the lounges and on the decks. If it isn't raining or unduly cold, find yourself a chair or bench in the open air and enjoy the scenery.
Tickets to ride
Ticket prices vary with distance and class of service. You can spend anywhere from a few francs for a short crossing to SFr 40 or more for a circular cruise on one of the larger lakes. Accompanied children under 16 travel free if you've obtained a Swiss Family Card (SFr 20 at railroad stations in Switzerland; free with the Swiss Card or the Swiss Pass, described below).
If you plan to tour Switzerland without a car, you should consider buying a Swiss Pass from your travel agent before you leave home. The Swiss Pass gives unlimited travel on the Swiss Federal Railways, postal buses, lake steamers, city buses, and streetcars for periods that range from 4 days to a month. You'll also get a 25% discount on private mountain railroads, cablecars, funiculars, and chairlifts. It isn't cheap, but the savings add up quickly when you're on the go.
Other discounts are available. For example:
The Swiss Card offers a 50% reduction on boat fares and most railway tickets in Switzerland. It includes a roundtrip train between the Zürich or Geneva airport and any destination in the country.
Within Switzerland, you can buy passes such as the Half-Fare Travel Card and the Berner Oberland Card that offer various discounts.
Finally, the Swiss Boat Pass is useful if you plan to ride boats without using Swiss trains. It gives you a 50% discount on lake-steamer tickets for a full year, and you can purchase it at any boat pier with a ticket office.
For more information on transportation discounts, see my article on Swiss Rail Passes.
Where the boats are
---
Rail Europe our partner
If you live in the U.S., Canada, or the United Kingdom, you can use this site to buy Swiss, Austrian, and other European rail passes in your local currency. The site, which is operated by the Swiss and French national railroads, also has links to general agents in other countries.
---