Driving in Switzerland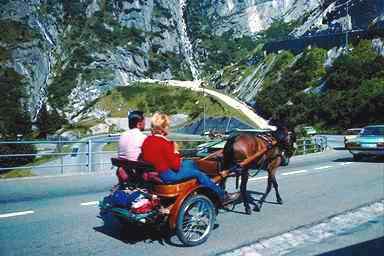 ABOVE: Our kind of driving in Switzerland.
We don't drive in Switzerland. Why? Because it's hardly ever necessary, and we'd rather not be burdened with a car (and the hassles of parking it) when we're enjoying Swiss cities, villages, and countryside.
Over the past 150+ years, the Swiss have spent billions of francs on the world's finest network of trains, buses, boats, funiculars, aerial cablecars, trams, and chairlifts. You can go nearly anywhere in Switzerland with a Swiss Pass in your pocket. So why view the countryside through a bug-splattered windshield like a tourist in California, New Jersey, or Texas?
Still, if you must drive, we won't throw myself in front of your car or caravan. Instead, we'll concede defeat gracefully and point you to articles and other Web resources by experts who are more willing and competent than we are to help you plan a Swiss trip by car:
Auto clubs
Touring-Club Suisse
The Touring Club of Switzerland's Web site is devoted mostly to sales and customer service for Swiss motorists, but it does have useful travel information for visitors.
ACS
Like the Touring-Club Suisse, the Automobile Club of Switzerland is geared to residents, but its Google-translated site may be worth a look.
Car train
BLS Lötschberg Car Transport
From the Bernese Oberland, BLS car trains offer a shortcut to the southern side of the Alps. (Just drive onto a train, and you'll be through the tunnel in 15 minutes.)
Route planners
Finaroute
Enter your Swiss departure and arrival towns, choose the kind of routing you want, and Finaroute will generate a detailed itinerary.
Law enforcement
Swiss Traffic Tickets switzerlandforvisitors.com
What to do when you commit a traffic sin and get caught.
Motoring Trivia
Where's That Vehicle Come From: Switzerland
Did the BMW that blew by you come from Schwyz or Solothurn? Here's how to tell.
Rental firms
Auto Europe our partner
This long-established firm has a wide range of cars from Peugeot, VW, Audi, Mercedes-Benz, and other manufacturers--including high-performance sports cars from a partner based in Zürich. Auto Europe also offers Peugeot "Buy Back" short-term leases for travelers from overseas.
Renault EuroDrive our partner
If you're driving in Europe for 17 days or more and your permanent residence is outside the European Union, a Renault EuroDrive short-term lease can be significantly cheaper than renting.
Motorhomes (caravans) and motorcycles
Auto Europe our partner
In addition to cars, vans, and SUVs, this long-estblished rental firm offers motorhomes for pickup in France, Great Britain, Germany, and Spain.
Moby Campers
This Swiss firm has a "handover place" in Bieberist, a village near Solothurn that can be reached by hourly trains from Zürich and Geneva Airports.
Related article
Sustenpass Road switzerlandforvisitors.com
Take a scenic excursion or a three-pass tour by car, bicycle, or Postal Bus. (The Sustenpass lies between Andermatt and Meiringen at the junction of cantons Bern and Uri.)
Other transportation
Just in case you have second thoughts about driving, here are links to indexes of my articles on other forms of transportation in Switzerland and Austria: