Emmentaler and Gruyère Cheese
in Switzerland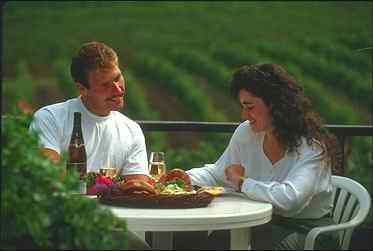 Cheese has long been a staple of the Swiss diet--a fact that's hardly surprising in a nation where, until recent times, dairy cows outnumbered bankers, foreign investors, and tourists. In The Swiss Cookbook, Nika Standen Hazelton writes:
Cheese was a standard food as early as in the thirteenth and fourteenth centuries. The early cheeses were simple products made from soured milk, such as homemade cottage cheese, and well into the nineteenth century many rural households knew no other. The solid, lasting cheeses that we know as Swiss cheese turned up in the fifteenth century, when they server for travelers and soldiers as one of the earlier kinds of convenience food.
Until the 1800s, most Swiss cheeses were relatively small, weighing no more than 10-12 pounds or about 5 kilograms. Then, as the Swiss cheesemaking industry developed modern manufacturing methods, it became practical to make huge wheels of cheese weighing 100 kilograms (220 lbs) or more. Today, a single wheel of Emmentaler for the export market may be worth US $2,500 by the time it's been sawn into blocks and sold by the slice at your local deli counter.
Two of the most popular Swiss hard cheeses are:
Emmentaler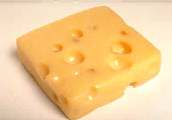 This pale yellow cheese is produced by some 1,600 dairies in the Emmental Valley of German-speaking Switzerland. It has a mild, nutty taste and is distinguished by large holes that are formed by pockets of gas during a fermentation that lasts anywhere from three to six months.
In his Cheese Primer, Steve Jenkins points out that, because the raw milk of Emmentaler is partially skimmed, the cheese is lower in fat than many other hard cheeses. It's also higher in quality than cheaper foreign versions. Says Jenkins:
The Swiss won't compromise on the naturalness of the product; they would rather throw away the occasional off-batch. Their standards are the highest in the world. Raw-milk Emmental, whether French, Swiss, or from elsewhere, is consistently memorable. It is Emmental's pasteurized-milk imitators, such as Norwegian Jarlsberg and Wisconsin Alpine Lace, that have reduced the status of this fine cheese.
Gruyère
This pale yellow cheese is made in smaller wheels than Emmentaler: typically 70 to 90 lbs or about 30 to 40 Kg. It has a sharper taste than its larger compatriot, thanks in part to an eight- to ten-month aging period. The cheese comes from the Gruyère district of French-speaking Switzerland, where an even sharper variant called Fribourg (after Gruyère's canton) is aged for at least two years. (Fribourg is also the name of the cantonal capital, by the way--and just to make things even more confusing, the center of the Gruyère district is named Gruyères with an "s.")
Gruyère becomes creamy when melted. This characteristic, along with its tangy flavor, makes it popular in the classic Swiss fondue.
Fondue
The word "fondue" has come to mean just about anything cooked and eaten from a common pot by diners equipped with long forks. For example, fondue bourguignonne consists of beef chunks cooked in hot oil, while fondue orientale is the same meat dunked in boiling beef or chicken broth. Chocolate fondue is another variant (served as a dessert, we hasten to add).
The classic Swiss fondue, however, is made with cheese. Gruyère and (usually) Emmentaler are chopped, tossed into an earthenware pot, and heated over a flame with white wine, a splash of Kirsch or brandy, a small quantity of flour or cornstarch, a sprinkling of nutmeg, and a few spoons of lemon juice. When the mixture starts bubbling, diners poke their forks into cubes of day-old French bread and dunk for their dinners.
In Fribourg, Vacherin cheese is substituted for the usual varieties and potatoes are used in lieu of bread. Valais fondue uses the cheese of that region, with milk instead of wine; Geneva's fondue sometimes has fresh tomatoes added to the pot.
In Swiss restaurants, fondue is normally served to a minimum of two persons. The traditional accompaniment is wine (not beer), which you can order by the deci (deciliter, or 1/10 liter) in all but the most upscale dining rooms.
Related Web sites
Emmental
The region's multilingual Web site is packed with tourism information.
Emmentaler Cheese Route
Plan a trip around your favorite cheese.
La Gruyère
Find information about the Gruyère region in French, German, and English.