Europe > Switzerland > Gimmelwald
Gimmelwald
This car-free village in the Bernese Oberland has offered peace, quiet, and alpine beauty to foreign visitors since the late 19th Century.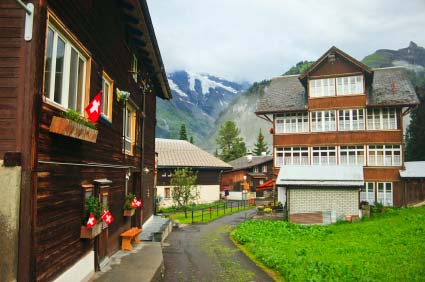 ABOVE: Chalets in downtown Gimmelwald.
Can an obscure village in the Swiss Alps remain off the beaten path after being featured in a television travel series and popular budget guidebooks?
In the case of Gimmelwald, the answer is moot--if only because this car-free village in the Bernese Oberland was a tourist attraction (albeit a minor one) long before its discovery by Rick Steves, PBS travel guide and author of Europe Through the Back Door, who devotes Day 18 to "Alps hike day, Gimmelwald" in "22 Days in Europe: Rick's Favorite Itinerary."
Consider this description from The Tourist's Handbook to Switzerland, published in 1884:
Leaving Mürren, we take the leftward path, and cross the stream of the Mürrenbach, descending, in half an hour, to the village of Gimmelwald. (Altitude, 4,500 feet. Hotel and Pension--Zum Schilthorn.) This place has been recently well spoken of by a correspondent of the Christian World as a pleasant and healthful summer resort for "tourists of moderate means" who may desire an economical and picturesque location of sojourn in the Bernese Oberland.

The pension above mentioned is referred to with hearty recommendation as "the boarding-house of Madame von Almen," where travellers "will find all they need for five francs a day, everything included, save wine." Such a rate is, of course, quoted for a lengthened stay, the advertised tariff of the house being six francs per day, and very reasonable at that.

The summit of the Schilthorn is also readily obtainable from Gimmelwald, and is recommended by this same writer as affording a view "ten times grander than that from the Rigi. Ride on horseback to the foot of the last cone, and then quietly walk up the last thousand feet. The Schilthorn is nearly twice as high, and commands the giants of the Oberland, being close upon them, with their majestic glaciers."
The prices have gone up since Robert Allbut wrote this passage more than a century ago, but Gimmelwald hasn't changed all that much. It's still economical by Swiss standards, and the setting remains as picturesque as it was when Frau von Almen catered to an earlier generation of English-speaking tourists.
So what's to do in this village of 130 people? Not much, unless you're a hiker or skier. The former can explore miles (or kilometers, if they prefer) of marked paths, and the latter can take advantage of the Schilthorn aerial cablecar, which stops at Gimmelwald on its journey from Stechelberg (in the Lauterbrunnen Valley) to the 65 km (40 miles) of ski runs and 10 lifts above the popular ski resort of Mürren. If the weather turns sour, Bern--the Swiss capital--is an easy day trip from Gimmelwald.
Getting to Gimmelwald
Adrian von Greyertz gives directions to Gimmelwald by train and cablecar at his Web site, "Gimmelwald, Switzerland" (see link below).
If you're driving, you can park your car at the 1,500-vehicle lot in Stechelberg and use the cablecar for the 5-minute ascent to Gimmelwald. Cablecars depart every 30 minutes from 6:25 a.m. to 11:25 p.m year-round.
Related Web links
Gimmelwald, Switzerland
Photos are a strength of this long-established site, which includes a gallery and an illustrated "getting there" section written in the style of a travelogue.
Gimmelwald: The Swiss Alps in Your Lap
Rick Steves, the American guidebook author and TV travel guru, wrote this article at Ricksteves.com.
Wikipedia: Gimmelwald
The online encyclopedia covers the basics, albeit briefly.
Photo © iStockphoto/Wekwek.