Mt. Pilatus
Page 2
Continued from page 1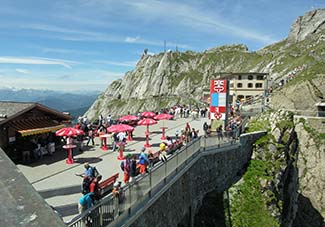 ABOVE: The Hotel Pilatus-Kulm, at the far end of the viewing terrace, has been declared an historic monument.
Hotel and restaurants
The Hotel Pilatus-Kulm opened in 1890 and is rich in traditional atmosphere. The historic building was completely refurbished in 2010, when the former "rustic rooms" were converted into modern 27 hotel rooms and three suites.
The hotel and cable station have full-service and cafeteria-style restaurants; the Pilatus-Kulm also serves food and drink outdoors. (I had an excellent lunch in the Pilatus-Kulm's Queen Victoria Saal, where a traveling Männerchor or men's choir sang for the other diners while waiting for their meal to be served.)
The hotel's location and views are spectacular, and we'd recommend staying overnight if you have time--especially in summer, when a night on the mountain will give you a break from Lucerne's tourist crowds.
Next page: Adventures and events
---
---
Top inset photo © Pilatus-Bahnen.