Mt. Pilatus
Pilatus Kulm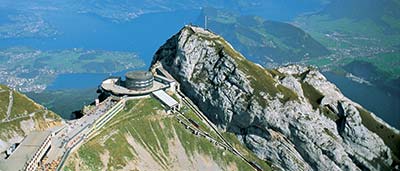 ABOVE: An aerial view of Pilatus Kulm and its viewing terrace, with Lake Lucerne in the distance.
By Durant Imboden
Mt. Pilatus has been a classic tourist excursion in Central Switzerland since the early 19th Century, when British and German tour groups climbed its slopes on foot or by mule. The mountain is easy to reach from Lucerne, and it offers fantastic views of the Alps and the Vierwaldstättersee (in English, the "Lake of the Four Forest Cantons" or Lake Lucerne).
There are several ways to ascend the mountain, which has a maximum elevation of 2,132 meters or 6,995 feet:

By cogwheel railway. The world's steepest rack railway climbs to Pilatus Kulm from Alpnachstad, which you can reach by boat, train, or road from Lucerne. (Maximum gradient is 48%.)

By aerial cable car. From Kriens, a suburb of Lucerne, four-seat gondolas take you to the Fräkmüntegg, where you transfer to a large cablecar that whisks you to the summit station.
On foot. From Alpnachstad, it's a hike of 5-1/4 hours to the summit. The downhill hike is only 3-3/4 hours, so you may want to consider riding the train up and hiking down. (NOTE: You'll huff and puff less in the downhill direction, but the uphill hike may put less stress on your knees.)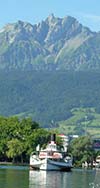 For most visitors, the best option is the Pilatus Golden Round Trip excursion, which combines a voyage by lake steamer to Alpnachstad, a 30-minute cogwheel train ascent, a 5-minute descent by aerial cablecar to Fräkmüntegg, a leisurely ride in a "panoramic gondola" through the treetops to Kriens, and a trolleybus ride back to the Lucerne train station. The excursion is offered from mid-May until mid-November.
Holders of the Swiss Pass, Swiss Flexi Pass, and Interail/Eurail passes get discounts on various portions of the journey. See the English-language Pilatus-Bahnen Web site for details.
Top photo copyright © Pilatus-Bahnen.