Mt. Pilatus
Page 3
Continued from page 2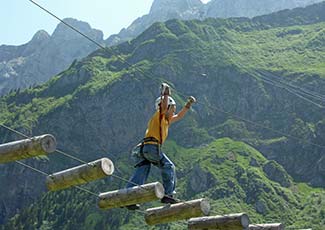 ABOVE: A child negotiates the Seilpark or rope course at Fräkmüntegg, on the northern slopes of Mt. Pilatus.
Adventures and activities
Ropes and toboggan runs at Fräkmüntegg
From Pilatus Kulm, an aerial cablecar will carry you to the small hillside resort of Fräkmüntegg, where you can transfer to smaller panoramic gondolas that continue down to the lakeside village of Kriens. But don't transfer right away--instead, spend some time at Fräkmüntegg, which has a restaurant, hiking paths, and two summer adventure attractions that are open from May to October:
The Seilpark Pilatus is Central Switzerland's largest "suspension rope park," with seven above-the-ground exercise trails that feature ladders, platforms, cables, aerial log bridges, and other challenges for acrophiles. Prices include equipment and instruction, and you can book a private guide in advance if you're more acrophobic than agile.

Pilatus Tubing is a 60-meter (197-foot) slide that you descend while sitting on a large inner tube. Along the way, you'll spin several times as you pass through several steep bends. At the end of the ride, a conveyor belt will haul you back to the starting point.

The Fräkigaudi Rodelbahn is Switzerland's longest summer toboggan run, zigzagging 1,350 meters or 4,429 feet down the lower slopes of Mt. Pilatus. Special wheeled sleds barrel down a curved steel channel; you control speed with a handle beneath your legs. (If you freeze up and let go, the sled will come to a stop.) Two-person sleds are available for adults with young children.
In winter, the toboggan ride is replaced by a conventional snow-sledding course. There's no need to bring your own sled; just grab one of the 500 free loaners at Fräkmüntegg, follow the toboggan trail, and turn in the sled at the lower gondola station when you're done.
Hiking on Mt. Pilatus
From the viewing terrace next to the Hotel Pilatus-Kulm on top of the mountain, you can follow well-marked summer walking paths to the peaks along the summit ridge. The walks are graded "easy" or "moderate" and last 10 to 35 minutes. See the Walking/Hiking pages on the Pilatus.ch Web site for descriptions. You can also get a free Pilatus hiking map at any Pilatus-Bahnen ticket office.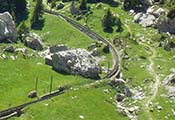 Adventurous hikers can ascend or descend Mt. Pilatus from Alpnachstad, where trails follow the cogwheel or rack railway. This is a moderately steep hike with rocky paths, so you'll need sturdy shoes and enough stamina to climb uphill for five hours. (Downhill is quicker but will be harder on your knees.) You can shorten the hike by catching or leaving the train at ämsigen, a stop just above the treeline about 12 minutes into the cogwheel railway's 30-minute climb.
Other hiking possibilities include a one-hour walk from the Fräkmüntegg cablecar/gondola station to the leisure area at Krienseregg, where you'll find a circular path that takes about an hour to go around. (This trail is suitable for baby strollers and wheelchairs.)
Seasonal events

Pilatus-Bahnen organizes special events in both summer and winter. For example, when we last updated this article, the railroad was offering the chance to ride in the driver's cab and "take over the steering wheel of the world's steepest cogwheel railway" for a mere 50 Swiss francs, with a Pilatus cap and personal certificate at the end of the journey. Check "What's on Offer" for the current season's packages and special events.
Next page: Pilatus photo tour
---
---