Ringgenberg (BE)
Page 3 - Web Links
Continued from page 2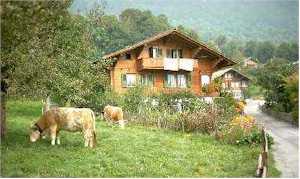 ABOVE: Typical chalet on a Ringgenberg hillside above Lake Brienz.
Tourist information
Interlaken: Ringgenberg-Goldswil
This English-language page includes general information, sightseeing information, and suggestions for apartment rentals.
Photos
Bilder aus dem Berner Oberland
The accompanying text is in German. Translate with Google.
Ringgenberg - Aerial Photography
From the air, you can see the village scattered over the meadows and hillsides by Lake Brienz.
Related articles
Interlaken switzerlandforvisitors.com
Excerpts from Joel Cook's Switzerland: Picturesque and Descriptive, with photos, excursion tips, and Web links.
Canton Bern Articles switzerlandforvisitors.com
This index has links to my articles about the Swiss capital and attractions in the Bernese Oberland, including nearby Brienz.